Austria Insight, 6 October 2011
Editorial or not editorial fashion reports?
In September/October 2011, the Austrian Federal Chancellor and the State Secretary for Media have problems with the law because of using the press in a way that readers could be influenced in their opinion without knowing the intention of the information they consume. The Chancellor and his Secretary are in best company. In early autumn, many Austrian politicians from various political parties have problems with the law: such as the ones who are involved into manipulations of the stock price of Austria's most important telecommunication company and the placing of an order (news on ORF.at). Fortunately the internet connections itself (keyword: network neutrality) were not manipulated because of economical or political reasons.
fig.: Jeans by Zacharia Angel (image shot in Ibiza), SS2012. 'Take what's yours!' is the motto of the Austrian/Swiss denim brand Zacharia Angel.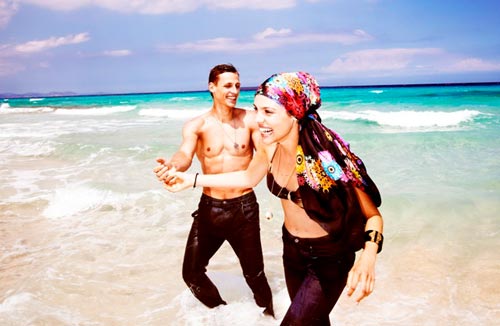 The Zürich (CH) based label by the Vorarlberg native (born in the Bregenzerwald, AT) and former DJ Andreas Mennel works together with designers and artists for the collections of jeans and t-shirts inspired by parties, clubs, nightlife, dancing, and music. The shirts carry slogans like 'Fancy Provocation', 'Rich Passion'...with illustrations such as sexy lips and smoking women and men.
At the Vienna Fashion Week in September 2011, Zacharia Angel presented the new SS2012 collection on occasion of the 'Nelou Fashion Show'. Nelou is an online shop for design products: Nelou - Best of Independent Style.
What's happening in fashion?
Fashion journalism in Austria is not influenced by politicians because it has no relevance for them. It's a free field without obligation to write about certain designers to justify governmental strategies. A negative article in the weekly magazine of the country's largest newspaper about the designs on the catwalk at the Vienna Fashion Week and the low level of creativity of Austrian designers is proving the fact that personal opinions have enough space in Austria.
On the other hand, some blogs write enthusiastically hilarious editorials about the collections.
Make your own opinion! View the catwalk videos on spykeheels.com or the example of Austrian fashion on this page.