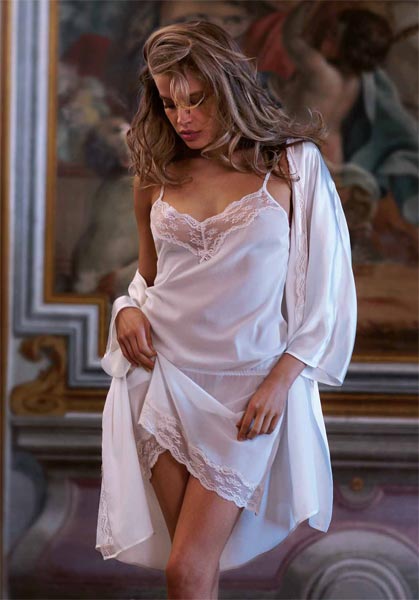 Austria Insight, July 2012:
Tyrolean countess' fashion of the 15th century and lingerie

In mid-July 2012, the Italian label Intimissimi presented the new Bridal Capsule Collection which will be released in autumn in Austria. It's a good time for the presentation of romantic lingerie made of lace in Austria!
fig. right: Model Tatyana Mityushina wears a light-rosé colored silk morning-gown over a lingerie-dress with lace details; Bridal Capsule Collection by Intimissimi.
The Austrians are highly sentisized for female underwear after the sensational trove of a more than 500 years old lace bra in an old castle in Tyrol. It is said that the bra (European size 36) was worn by a countess in combination with a tanga alike panty.
Nonetheless, if the researchers' discovery causes now that costume history has to be rewritten or if the 'bra'-find is the surviving part of an undergarment (which is likelier - the bra in this form with two cups for the breasts is much younger and around 100 years old; not to mention the 'tanga' which was very probable a sort of sanitary towel), the countess who lived in the castle Schloss Lengberg (video) in East Tyrol, fascinates the people and stimulates their imagination of a pioneering 15th century fashion countess.
Note: Read more about the find and view the 532 years old bra on tirol.orf.at.
fig. below: Model Tatyana Mityushina wears a push-up bra with padded cups and slip in Brasiliano cut in pearl-white with light-rosé details. Bridal Capsule Collection by Intimissimi, release in Autumn 2012.
more collections>