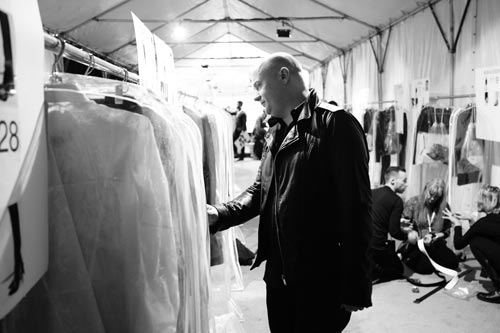 fig.: Creative director Andreas Melbostad tailored the Diesel Black Gold FW2013/14 women's wear pieces anatomically close for the aerodynamic form and mixed various materials into one outfit such as lace on denim, leather on denim, or wool that is coated with black leather finish.

'Hybrid' is another keyword that can be found for the description of his design concept which fuses classical styles (such as motoring, biker) with new interpretation. Andreas Melbostad says: "Above all, I want to create a collection for the strong, confident and sexy new Diesel Black Gold woman."


Women and bikes
Diesel Black Gold introduces into the Fall/Winter 2013/14 women's wear with keywords like 'Need For Speed', 'Open Road' or 'Iconic Motoring'. The new collection was presented on 12 February 2013 during New York Fashion Week.
It was not easy to select the three 'best' outfits for the article on this page because almost the whole collection is great. Rarely that the idea of women and motorcycling is so well translated into fashion with so much style, sex appeal, a touch of sport and an elegant spirit.
And perhaps - instead of the three outfits below, other items should had been selected for this article such as the leather biker dress encrusted with metal studs, the jeans with this classical biker decoration, and the blue-black coat with coating that reminds heavy-used leather motor jackets or the oily work suit of a mechanic.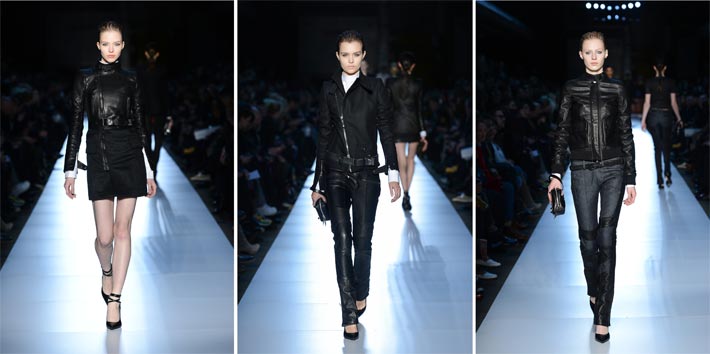 more collections>