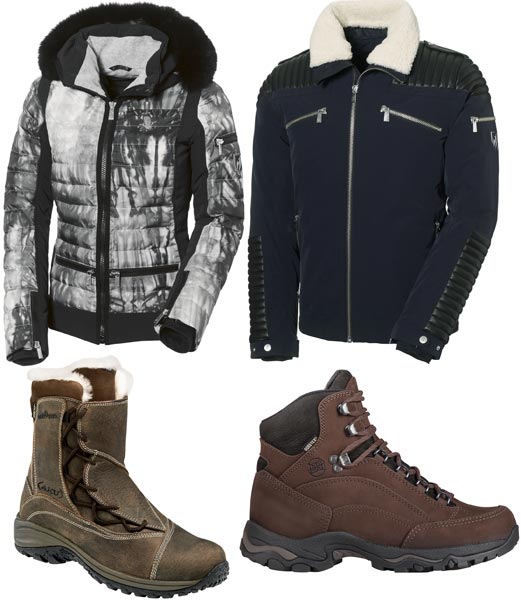 Preview winter 2013/14
From 3 to 6 February 2013, the new sports and outdoor collections Fall/Winter 2013/14 by international brands will premiere at the ISPO in Munich, Germany (more than 2.300 exhibitors, visitors from over 100 countries). Some of the labels provide already insights such as Toni Sailer (named after the Austrian Olympic medal winner and actor Toni Sailer), the Italian shoe label AKU or the Bavarian intelligent footwear brand Hanwag.
The jackets on this page are from the FW2013/14 Toni Sailer collection.
fig.: The 'Arizona Print Fur'-jacket for women shows a black-white batik print with metallic-chrome appeal. The jacket on the right side is for men. Its main color is dark blue; the shoulders and the sleeves are covered by dark green upholstery. Both jackets are from the FW2013/14 collection by Toni Sailer.
The dark brown 'Snow Cristal GTX' women's shoe on the left side is from the new FW2013/14 collection by the Italian trekking & outdoor footwear label AKU and the right one is for men ('Alta Bunion GTX'); the shoe is a special version of a trek light boot with extra orthopaedic feature (for people with Hallux Valgus) by Hanwag (photo of the boot: (C) Peter Wilson_Hanwag-2011). Hanwag announces the launch of new models of footwear such as boots with electronic heating, special thermo-soles, and the new Ice-Grip sole with glass particles.
fig.: Black-blue jacket 'Connor' with stretch-sleeves (underarms) and yellow color detail on the left shoulder by Toni Sailer. Dark-grey high boot 'Ilder' with Ice-Grip sole; Hanwag produces the model in male (on this photo) and female versions. (Photo of the high boot: (C) Peter Wilson_Hanwag-2011) Jacket and boot are from the FW 2013/14 collections.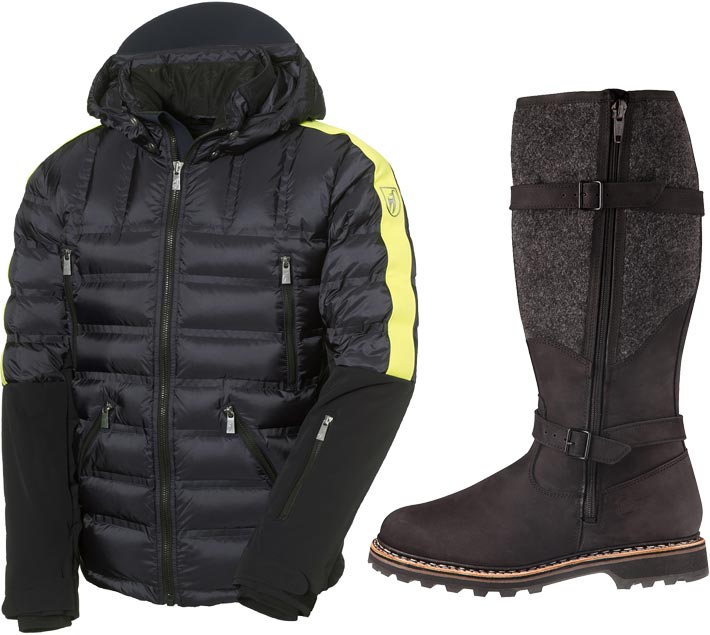 more collections>