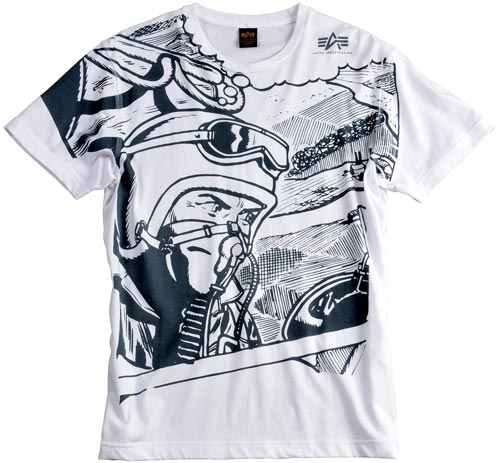 Pilot Buck Danny on t-shirts
In mid-March 2014, Alpha Industries (Europe) announced that the label's signature comic figure Buck Danny is now even on view on t-shirts.
Buck Danny is from the eponymous French-Belgian comic series which was created by Jean-Michel Charlier (text) and Victor Hubinon (visuals) and premiered in 1947. US-Navy pilot Buck Danny is some years older than Alpha Industries. The label was founded in 1959 and is since then outfitter (flight jackets) of the US-Airforce and US-Navy.
Alpha Industries Europe posts on Facebook several images of women wearing the label's jackets such as actress/musician Jennifer Hudson, Victoria's Secret Angel Doutzen Kroes, or model Cara Delevingne. Unfortunately there aren't any t-shirts for women with female aviator print on view; neither a print of a fictional character such as a figure of a comic-series nor a non-fictional person like aviation pioneer Amelia Earhart (born 1897)*.
*Fast checked on 15 March 2014 at the online shops on alphaindustries.com and alphaindustries.de.
fig.: 'Buck Danny'-print on white t-shirt for men, Alpha Industries (Europe) Spring/Summer 2014 collection. Photo: (C) Alpha Industries.


more collections>