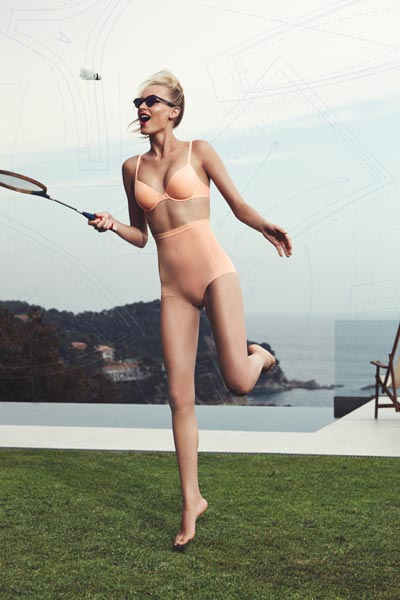 fig. above: Bra and shaping high-waist panty from the 'Light Sensation'-series which is made from nylon-micro fibers with moisturizing minerals (up to 100 wash cycles).
fig. left: 'Aurora Sensation' super high-waist panty with animal (snake-skin) print.

Photos provided by Triumph in May 2014.
Has shapewear more functions than modeling a good figure?
Modern shapewear was developed from the corset which was from the beginning on very probable not only for beauty (slimmer waist) in use but as holder of the spinal column; in some cases, this underwear could be a good choice for preventing back pain during longer walks or sportive activities.
Today, the new 'corsets' are more comfortable than the whalebone or metal prisons from former days as they are made from innovative light materials, the fibers interact with the skin for cooling the body (such as the one by Triumph on the image right) and the surfaces show glossy textures or armour-like prints (image below). There are lighter and stronger versions of shapewear on the market such as seen at Triumph's current SS2014 collection.