1 February 2016

Bloggers and fashionistas in Geox 'Nebula' sneakers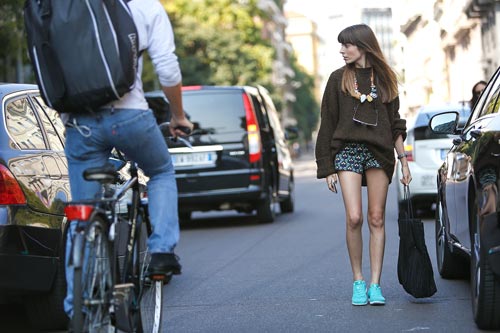 Italian label Geox launched the 'Nebula' shoe collection Spring/Summer 2016 with press-campaign images of male and female bloggers and fashionistas for showing that these lightweight shoes are made for walking in an urban environment. One of them is blogger, model, student Anna Ponsa Lopez who publishes on Missnobody.net photo series with text such as from her travel to Casa Salvador Dali or pictures from her latest Vogue Spain collaboration under the title "How To Wear...Mocasines". Missnobody aka Anna Ponsa Lopez seems to be a specialist in selecting the right shoes and outfits! At the Geox 'Nebula' images, her styling with sea green Nebula sneakers breathes the fresh air of Mediterranean lifestyle.
fig. above: Anna Ponsa Lopez by Stefano Coletti. Photo below: Color range (navy blue, sea green, urban sand, coral red - all with white outsole) of one of the models for women of the 'Nebula' Spring/Summer 2016 collection by Geox. (C) Geox.