16 February 2017

Fashionoffice tips for wedding dress, shoes and beauty
The wedding style Spring/Summer 2017 tip is focused on 'saving money' and 'looking great'.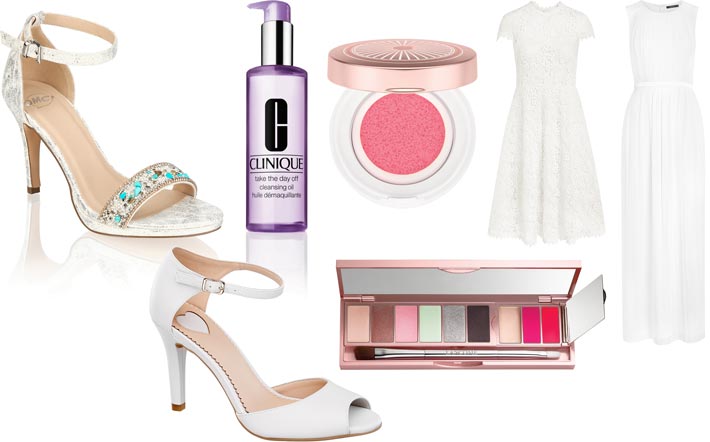 The dresses at the image are from the current wedding collection by Esprit. The fashion label offers various styles - even a white pantsuit consisting of blazer and trousers for women. On view on this page is a short-sleeve, knee-length dress made of lace with romantic, playful floral pattern (139,99.- Euros) and a sleeveless long wedding gown in classical old-Greek-like plisse pleats style (119,99.- Euros).
The silver-sparkling sling pumps with blue stone and crystal embellishment by OMG will be available from March at Shoe4You (39,95.- Euros).
The white more classical sandals by Graceland will be available from mid-March at Deichmann (22,90.- Euros).
The six eye colors and three lipsticks of the 'La Palette La Rose' box (around 56,00.- Euros) and the 'Cushion Blush Subtil' (ca 40,00.- Euros) in rose lemonade are from the Spring Look 2017 'Absolutely Rôse' makeup collection by Lancôme. Rose is currently one of the favored colors by international designers and applies as makeup freshness and clarity to the skin. The box with six eye colors contain also three lipsticks. Lisa Eldrige, makeup Creative Director Lancôme, recommends the layering and playful usage of the colors.
'Take the day off' cleansing oil by Clinique (200 ml, around 26,00.- Euros) is a new texture for removing makeup easily from the face; it's available since mid-February.


more collections>