19 December 2017

Tip early 2018: Ocean inspired fashion and beauty
'Non toxic!' will become in 2018 probably once again one of the favored zeitgeist expressing lifestyle and fashion mottos - especially after people have already learned that contracts negotiated by politicians are often not worth the paper they are written on and that they have to take the future of the planet more in their own hands. At the very latest after this year 2017, world citizens know that even serious climate contracts are seemingly only made to be broken. Fashionoffice collected some pieces with an eye on the impact on the environment and inspired by the ocean, water and sports.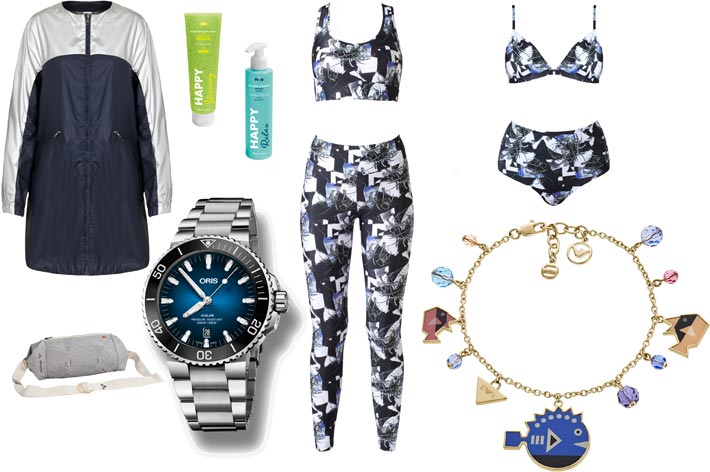 The athletic fashion pieces - the leggings with top and the bikini, are from the new 'Sport 2018' collection by Vienna-based label Margaret and Hermione. The design-duo attach to its flags the production of fashion made of materials which contain fibers of recycled old or unused fishing nets. The print on the fabric reminds cut or pulled out postcards or pictures where the ocean is partly visible. Between the ripped out paper collage, organic material similar to sea grass is growing wildly and untamed. (Photo: © Margaret and Hermione)
The bracelet with fish and pearl pendants is from the new Spring/Summer 2018 jewelry collection by Emporio Armani.
The watch by Oris is dedicated to the protection of the environment of the French Clipperton Atoll in the Pacific Ocean. The limited to 2.000 pieces watch edition 'Oris Clipperton' is from the brand's Aquis series and reflects with its blue face the color of the ocean around the coral atoll which is around 1.000 kilometers away from Mexico and counts to the world's richest fishing locations. Oris has supported already in early 2017 an expedition to the atoll to research the migration movements of species which are endangered by the pollution of the region and the damages caused by illegal fishing. Now, the next plan is to extend with parts of the money from the purchase of the 2.000 watches the marine protected area from 12 nautical miles to 100 and promote the inclusion of the atoll to the Unesco World Heritage list.
Long nylon jacket with 'Memory Effect' (silver shoulder-arm parts) from the new Spring/Summer 2018 collection by Colmar Originals.
The two beauty items - the peeling with Happy Harmony scent (tea and lime) and the Happy Relax body milk (mint and seaweed), are from the new Marionnaud bath line (available since this month).
Soon on 28 January 2018 at ISPO Munich, Vaude will present the label's new Green Shape Core Collection Winter 2018/19. The collection is produced under fair conditions and made of sustainable materials such as the waist and wrap-around bag from the 'Lignum' series which is made of fibers of bio-cotton and hemp.

Annotation: Fashionoffice hasn't tested the products on view on this page. This article like the editorial work of Fashionoffice as a whole - inclusively research activities, isn't sponsored or paid in any way by labels or by media, culture founding institutions of the Austrian government. Ads are changing with the interests of users, countries, etc and run exclusively over third-party tags in advertising slots beside editorial articles.


more collections>