18 April 2017

Tribute to legendary 70s tennis apparel designs by Fila Creative Director Pierluigi Rolando debuts at French Open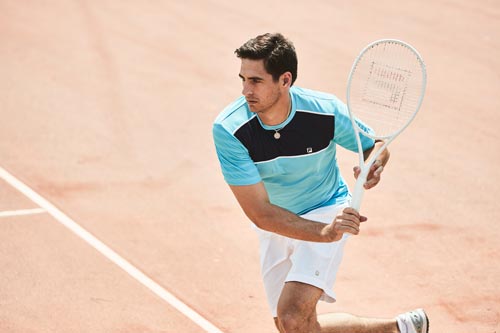 On occasion of the upcoming 'French Open' (aka Roland Garros, 22 May - 11 June), the Fila 'Legend' men's tennis collection will be shown for the first time in action by the brand's sponsored athletes on the courts in Paris. The 'Legend' collection pays homage to the first Fila Creative Director, Pierluigi Rolando who introduced with stars like Björn Borg colors into tennis fashion in the early 1970s. Fila's influence on tennis apparel is legendary and is mentioned at historical reviews such as at the 'Allure' article "A Fashion History of Tennis Uniforms".
The 1970s are characterized by disco music, new dance expressions, colorful pop-art or performance art which democratized the art system. Breaking barriers of rigid conventions was also a motto in tennis fashion which was associated until the 1970s mainly with white outfits. Pierluigi Rolando incorporated the 'freedom' movement into sportswear and developed together with engineering director Alessandro Galliano the brand's first outerwear line, the 'White Line' (debut 1972) of pieces in vibrant colors. The name of the line is an anachronistic answer to the tradition of all-white tennis apparel. For the materials, the team Rolando & Galliano created fabrics which were "...designed to mirror the movements of the athletes themselves, adhering smoothly to the body like a second skin yet providing a sense of total freedom." (Source: Fila). The collaboration between Pierluigi Rolando and Fila lasted over 14 years.
The 'Legend' collection (two crewneck tops, one polo shirt, a long sleeve shirt, one short style; various color variations) will be available on Fila.com and at tennis retailers.