20 March 2018

Snapshots from the Freywille jewelry SS2018 presentation: New views on details of paintings by Van Gogh, Gustav Klimt, Alphonse Mucha, Claude Monet
Van Gogh - Almond Blossoms
Gustav Klimt - Water Waves
Alphonse Mucha - Butterflies
Claude Monet - Water Lilies
Today, Austrian brand Freywille presented the new Spring/Summer collections of enamel jewelry, scarves and perfume travel flacons. Four internationally known artists and their works inspired the designers for closer views at details such as at Van Gogh's 'Almond Blossom' painting and other artworks created between 1888 and 1890 from a series showing blossoming trees. For the jewelry, various designs were tested - such as on view at the picture below. During the design process, modernized Van Gogh almond blossoms were applied in various versions on paper (on view at the four bangles at the picture below); from small blossoms against a blue sky in rather muted colors (left) to the final bigger size of blossoms with golden branches on fresh blue. The bangle right shows the motif 'L'Amandier Bleu Ciel'. It's also interpreted in warm red ('L'Amandier Rouge').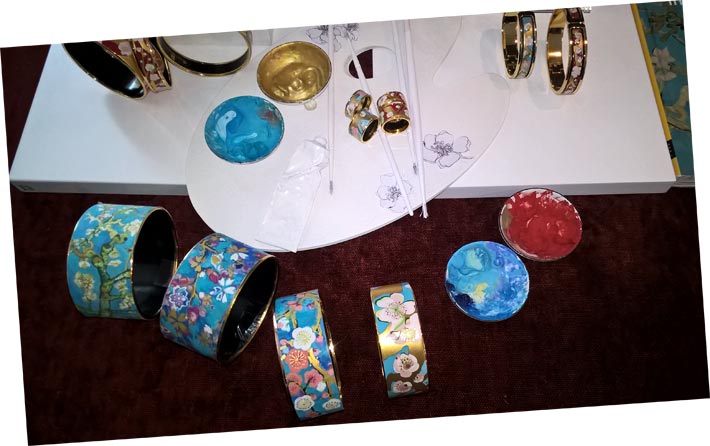 Freywille is known for throwing light on details of Alphonse Mucha's art; such as the 'Papillon'-line showing a butterfly in Art Deco/Jugendstil style. For the new season, the papillon motif was colored in lilac in tones of Pantone's color of the year 2018 'Ultra Violet'. On view at the image below, jewelry and scarves of the 'Papillon Metamorphose' Spring/Summer 2018 line.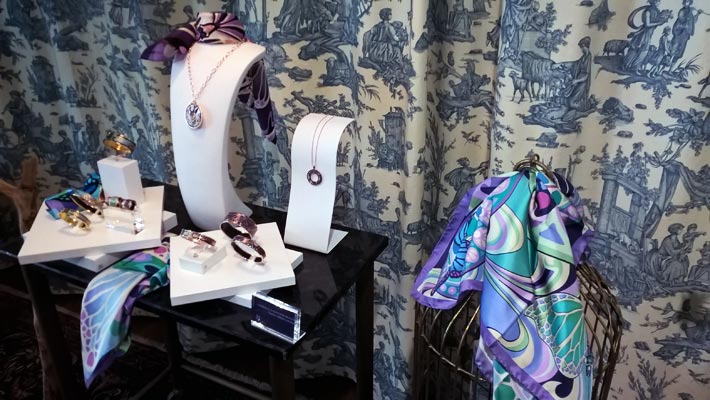 The special 'Klimt Limited Edition' is inspired by the Stoclet Frieze in Brussels and captures especially the nature celebrating golden water waves elements of the Tree of Life. The whole collection of five designs (two bangles, two pendants, 1 pair of earrings) in total is limited to 999 items. Each of the collector pieces will be numbered and handed out with certificate.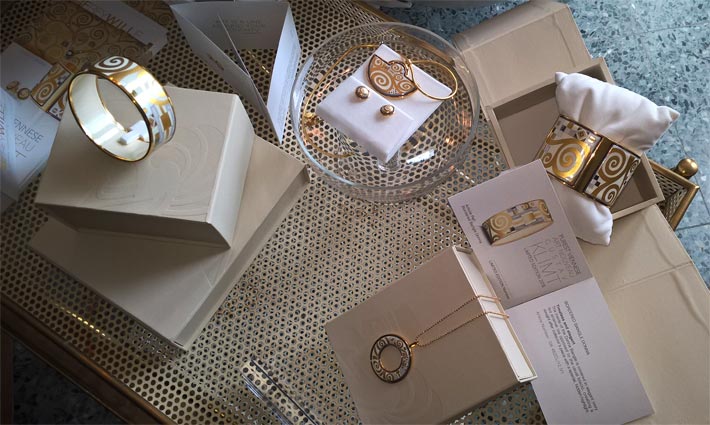 For Spring/Summer 2018, the 'Orangerie'-line paying homage to the water lilies by Claude Monet was colored in new tones of blue and rosé.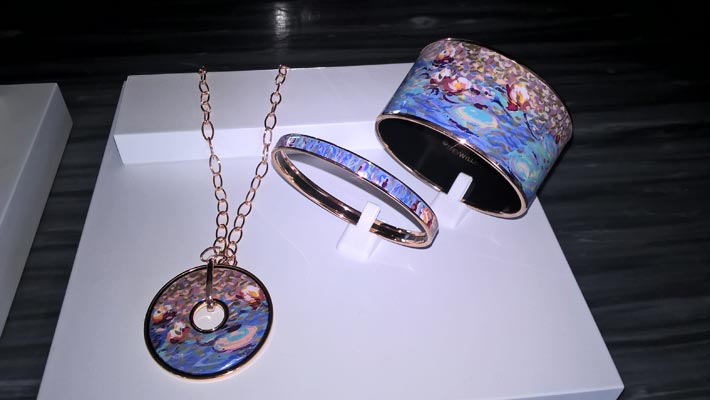 From April, the new travel flacons for the four scents of the Freywille perfume collection will be available at Freywille stores. The packaging designs are matching the jewelry such as (at the image right) the 'Klimt Limited Edition'-motifs.