16 April 2018

Skarabeos launched Indiegogo campaign for bags with anti-theft and loss-preventing alarm system - without collecting data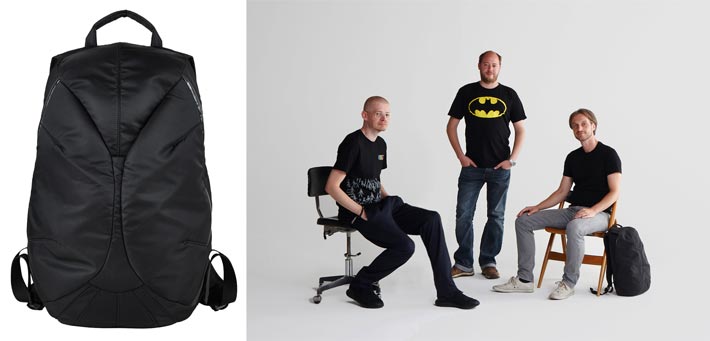 Recently on 10 April, the latest project - the 'Skarabeos' anti-theft bags with connection to an app, by Red Dot Design Award winners fashion innovator Wolfgang Langeder (Austria) and the Fraunhofer Institute tech experts Manuel Seckel and Christian Dils (Germany) was launched on Indiegogo. The label's name 'Skarabeos' references the ancient Egyptian luck and protection symbol scarab beetle. In 2016, the protection system was designed. In the same year, Skarabeos has started with testing which was extended by field tests with connected app through 2017.
In an interview on sputniknews.com, Wolfgang Langeder explains why the app won't collect any personal data: It runs via Bluetooth. The wearer will be alarmed when somebody wants to open the backpack or when the distance to the bag increases. GPS tracking of the bag isn't possible. Several tech, economy focused media and fashion publications like the Italian edition of L'Officiel, FashNerd or the Berlin Fashion Week Blog have already published articles about the technology of the Skarabeos bags.
25 days are left for getting backpack, briefcase, textile bag for daily shopping, phone bag - all equipped with anti-theft and loss-preventing features, as well as accessories like organizer or pouch for special prices at Indiegogo. Estimated worldwide delivery is December 2018.
fig. above, from left: The 'Skarabeos' backpack is connected via app with the smartphone or smartwatch to prevent via alarm the wearer from theft or loss. The founders of Skarabeos Wolfgang Langeder (background fashion business) and the tech experts Manuel Seckel and Christian Dils (working for Fraunhofer IZM Berlin). The founders have first met in 2009 at the Ars Electronica Festival in Linz, Austria. In 2013, the team won the Red Dot/Best of the Best-Award for the cycling 'Sporty Supaheroe' jacket with stretchable electronics.
Photos: (C) Elisabeth Grebe.


more collections>