4 April 2018

Tiberius teamed up with headwear maker Alwa Petroni and photographer Vrinda Jelinek for the presentation of tailor made 'Vienna City Bride' wedding styles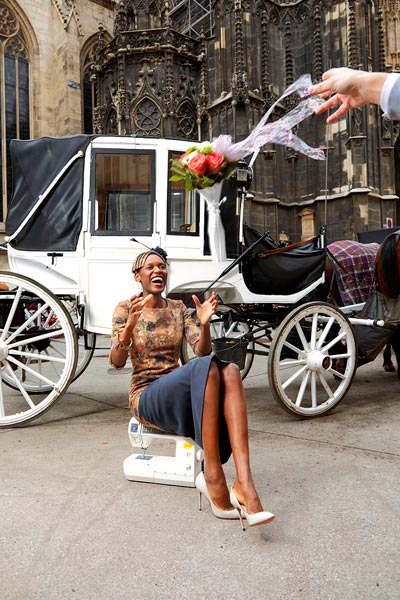 Vienna-based fashion label Tiberius presents together with headwear maker Alwa Petroni a wide range of wedding styles - from a classical white long gown over a knee-length outfit (pictures below) to an elegant women's pant suit and bridesmaid wear (image right), at the recently published photo series for the campaign 'Vienna City Bride'. The images were captured by photographer Vrinda Jelinek at locations through the city such as in front of St. Stephen's Cathedral, at Blumensalon Naderer or Hotel Imperial Vienna. The sewing machine (image right and at the pictures below) appears like a red thread at the series. It stands for the tailor made creations by Tiberius art director Marcos Valenzuela who designs the pieces especially for the bride's style.
fig.: Campaign images for 'Vienna City Bride' wedding fashion by Tiberius, 2018.

Credits of the campaign:

Photo: Vrinda Jelinek
Model: Aishat Gina/ Wiener Models
Makeup: Dragan Strobl
Jewelry: Florian Haas & Olivia Haas
Millinery: Alwa Petroni
Locations: Putzerei Sylvia Reinigung, Blumensalon Naderer, Porzellanmanufaktur Feine Dinge, Shop-Alles Günstig, Metzgerei Szabo, Hotel Imperial Vienna.