on aura tout vu
spring/summer 2009


About a material that is produced/used worldwide and illusions
In January 2009 on aura tout vu presented the new spring/summer 2009 couture, accessories (sunglasses), bag and shoe collections at their studio in Paris.
Alongside to bright colored pieces in violet, red, pink, blue, green with psychedelic Paisley prints for the Mediterranean 70ies look, the main focus of the summer couture collection is inspired by the fragility and the colors (blue and white) of porcelain from the times of Louis XV, Madame de Pompadour, Marco Polo, King-te-Chen (the Chinese Ming blue-and-white porcelain was produced in Jingdezhen; the Ming dynasty ruled in China from 1368 to 1644), Meissen (the European porcelain was developed from 1708 by Ehrenfried Walther von Tschirnhaus en.wikipedia.org/wiki/Meissen_porcelain)...
For on aura tout vu, the story of couture and porcelain is about fragility and vulnerability which comes from a delicate material that can burst easily, and in the same time the collection is about powder in the sense of "to throw dust in someone's eyes", to illusion other people. You will find on the white/blue dresses broken porcelain applications, draperies which re-form the Rokoko Cul de Paris, crocodile embossed leather belts with porcelain cameo on torero like trousers...
Video: on aura tout vu spring/summer 2009, presentation in January 2009 at the label's studio in Paris.

Music The music on the catwalk was arranged by DJ manue g. The first two tracks on the video are
You Can Close the New York Stock Exchange / Everbody's Got the Right - Original Broadway Cast - 1991
Money, success, fame, glamour - Felix Da Housecat vs. Pop Tarts - 2003
Check out the full playlist of the catwalk presentation by DJ manue g (aka Emanuelle Gabriel) manue.biz/playlist/oatvsummer09/. Shoes by on aura tout vu, tights Wolford, make up MAC cosmétique, hair Patrice Piau.


About on aura tout vu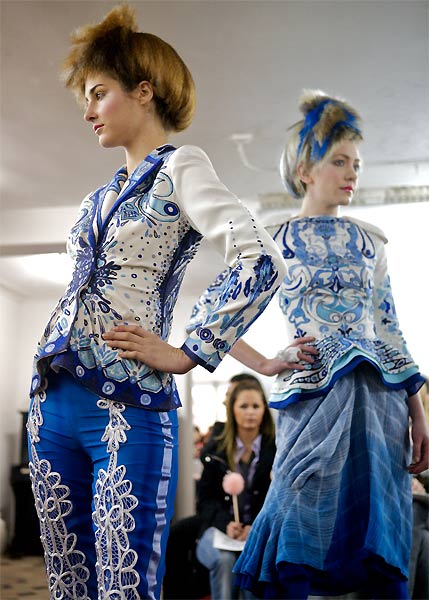 André de sà Pessoa (born in Portugal; graduated from FIT in New York), Livia Stoianova (born in Bulgaria; studied Fine Arts in Sofia, graduated from the Fine Arts School in Paris), and Yassen Samouilov (born in Bulgaria; graduated from the Fine Arts School of Versailles) launched "on aura tout vu" in 1998. The label has collaborated with Motorola (2007), Chopard (2006), UPS Model (2005), Swatch (2004)....

The comedian Emmanuelle Rivière was the exclusive star of the spring/summer 2008 show with the title "moi, moi-même & je" fashionoffice.org/design/
2008/onauratoutvu2-2008.htm.

On aura tout vu is available in Europe, America, Asia, Middle East. On their website you will find the list of stores, biographies of the three cofounders and their preferences (André de sà Pessoa is 'not afraid to displease and provokes for a profession'), an extensive mission statement... To enter the website you have to decide for yourself what you are today: angel or demon? www.onauratoutvu.fr.

fig.: on aura tout vu spring/summer 2009. Left: Azulejos II; Jacket draped with silk crepe, embroidered painting of the Fronteira Palace. Silk satin trousers, blue pigment & white lace. Right: Azulejos III;Embroidered jacket with Basque mille feuille. Linen skirt in shaded tones. Shoes by on aura tout vu, tights Wolford, make up MAC cosmétique, hair Patrice Piau. Photo: ©Guillaume Roujas 2009


more design>>>