THAT'S IT, THAT'S ALL. (2008)


Run Time 55 minutes

Producer, Director, Cinematographer and Editor: Curt Morgan
Starring: Travis Rice, Mark Landvik, Nicolas Müller, Terje Håkonsen, ...
Produced by Brain Farm in partnership between Red Bull and Quiksilver.
Video: Trailer "That's it, That's all." (2008)

The Idea
Brain Farm owner Curt Morgan and co-founder snowboarder Travis Rice had the idea to look from a new perspective on snowboarding; mostly from a helicopter they are showing new tricks that leave you wondering, how did they do that?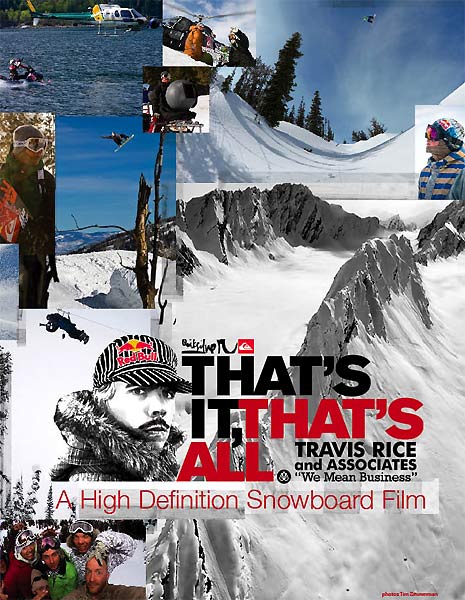 Therefore they travelled for two years with a team of snowboarders around the globe and have shot on the best locations in New Zealand - Valdez, AK - Nelson, BC - Jackson Hole - Park City - Munich - Tokyo - San Francisco - Mammoth.
"That's It, That's All.' is epic snowboarding meets Planet Earth," explains Curt Morgan, President of Brain Farm. "The film is a visually stimulating piece of work that pulls in a wider audience by encompassing the most progressive riding in the world with unbelievable travel and nature footage."

New Aesthetic
The new aesthetic of this film is a result of how camera technology was used: for the first time in action sports a Wescam 35 was installed on snowmobiles: to film from helicopters the Brain Farm team has taken the Cineflex HD.
fig.: Detail of the Poster; photography by Tim Zimmerman

Worldwide Tour
The worldwide tour has started in August 08 in Australia/New Zealand, travels in September/October 08 through US, and comes in Oct/Nov 08 to Europe,... Find out details about the tour and more trailers on thatsit-thatsall.com.


more film>>>