GUCCI
fall/winter 2009/10
The idea that people are 'reflecting and connecting' off- and online
In mid-October 2009, the Italian brand Gucci launched the new eyewear collection 'Eyeweb' consisting of 2 models in 6 different colors with a multi-lingual (English, French, Italian, German, Spanish) networking microsite, where users can upload photos from parties and get connected in individual preferred fashion cities. The collection will be accomplished in spring 2010 by three additional models.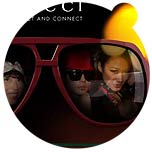 fig.: Screenshot guccieyeweb.com. Gucci invites users on the social media site to get in contact, to game and to meet each other. The uploaded images are framed by the eyewear and appear as reflection of the glasses.
Since Frida Giannini is the new art director of Gucci, the internet and its social media features became an important part of the brand communication. Frida Giannini, born in Rome in 1972, studied fashion design at Rome's Fashion Academy. From 1997 on she worked at Fendi as a ready-to-wear designer for three seasons before being named designer for Fendi leathergoods. In September 2002 she joined Gucci as Handbag Design Director. In March 2005 she was named Creative Director of Gucci Women's ready-to-wear, in addition to her responsibilities for all accessories. In January 2006 she also became in charge of men's wear, thus becoming the sole Creative Director of the label. In 2008 Gucci opened a new chapter in the history of the fashion house: on 1st May 2008 Gucci has extended gucci.com with an interactive presentation of the Gucci Chiodo timepieces to introduce the new Chiodo collection with Gucci-widgets such as a personal scrapbook and a calendar.
The label celebrates the 88 anniversary this year, but long before 'Gucci' became a 'label', a local legend says that the Gucci family were saddlers to Renaissance royalty.

Gucci has different symbols: the knight who carries the luggage (introduced in the 1950ies), the horsebit and horse nail (60ies), and the green-red-green stripe such as on the glasses on this page. The stripe has in the house of Gucci a name that inspired the idea of the networking site: 'Web'. The logo for men is the 'G', for women the 'GG'.
Frida Giannini has created both, the collection and the website. The users can choose the language, the city, select between day and night. In each city, the music changes. She designed a virtual world made of the different facets of the real world. Frida Giannini followed the main idea that people are 'reflecting and connecting' off- and online www.guccieyeweb.com.

Source: Original article with images on http://www.fashionoffice.org/collections/2009/gucci11-2009.htm.


more fashion.at/mobile>
News from
July - August 2009
May - July 2009
April - May 2009
Jan - March 2009
October - December 2008