NEW YEAR STYLE
spring 2010
fashion by Aéthérée, Carrera, Calida, Chicks on Speed/Little Red Riding Hood, Burberry
beauty by Jessica Cosmetics, Moschino, Vichy, MAC Cosmetics
Some rules are necessary, some rules are not...
...is the most important information that is delivered by the pedagogues at school. But when teachers take formalism more serious than content, the kid will well behave but is not well taught.
You can find similarities between the ones who are well dressed and the ones who have style. The well dressed ones are following the fashion rules which are promoted by glossy magazines without using their individual taste for expressing the own personality; this includes to break some of the fashion rules.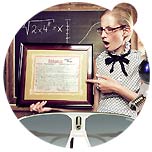 fig.: from above original
Aéthérée spring/summer 2010 for women. Photo by Erik Bont www.erikbont.com.
"At a moment, where the question about uniforms at schools became more important, Aéthérée propose a garment, where you can't really define the boarder between a uniform or a garment for every day," writes the design brand about its inspiration to develop a garment which confirms the wearer's personality.
The name of the label Aéthérée by the two designers Adrien Escaravage (born 1981 in France) and Ly-Ling Vilaysane (born 1980, Swiss) comes from the Latin language and means pure, aerial, ethereal. Ly-Ling is responsable for the women's collection Aéthérée (two 'ée' in the end) and Adrien for the men's collection Aéthéré (one 'é' in the end). In January 2009, the designers have spoken about 'Home, Practical Things and the Real World' in an interview with Fashionoffice.
'Social Lights' by Jessica Cosmetics. Jessica Vartoughian is well known for making the nails of stars. On her website she cites the Vogue which called her "Manicurist to the Stars". By the end of 2009, Jessica Cosmetics recommends for X-Mas parties the 'Social Lights' in midnight blue, ruby red and sheer glitter.
Carrera Champion from the Vintage collection 2009. 'Lady Gaga' wears the glasses in her latest music video 'Bad Romance'.
El Carmen by Calida from the spring 2010 collection. El Carmen is inspired by the collection's leading theme 'Panamericana'.
Scarf by the musicians/performers Chicks on Speed. Since 1st December 2009, the scarf is available on the website of Little Red Riding Hood. Learn more about the musicians and the design label at the article 'Art - Fashion - Music' from November 2009.
Light Clouds from the Cheap and Chic series by Moschino. The flacon has the name 'Olivia' - Popeye's Olivia. The 'Light Clouds' eau de toilette is a fragrance that is supereasy to wear. It is made to open the fantasy for new ideas.
Tote from the 'Hearts Collection' by Burberry. The collection is especially designed for 14th February 2010, Valentine's Day.
Face creme from the 'Essentielles' series by Vichy. The creme cares and protects with the help of the 'Rosa Gallica'.
'Pretty Please' lipstick from the 'Love Lace' collection by MAC Cosmetics. Exclusively available in January and February 2010.

Source: Original article with images on http://www.fashionoffice.org/collections/2009/newyearstyle12-2009.htm.


more fashion.at/mobile>
News from
September - October 2009
July - August 2009
May - July 2009
April - May 2009
Jan - March 2009
October - December 2008