RIHANNA
Streamed live-performance on the web
On 16 November 2009, Rihanna presents her new album 'Rated R' in London. Together with Nokia, she makes the concert available for users worldwide on www.nokia.com/Rihanna. Where the show definitely happens in London, is kept a secret in the announcement from 5th November. The album will come to the Nokia Music store on 20 November. From 13 until 26 November 2009, you can get one selected track free on the Nokia Music Store.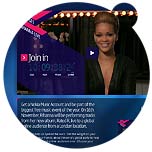 fig.: Screenshot of the website www.nokia.com/Rihanna.
Video: 'Run This Town' (Aug 2009) by Jay-Z with Rihanna and Kanye West, directed by Anthony Mandler who has worked several times with Rihanna. Mandler has directed videos for Jay-Z, Eminem, Beyoncé,... to name a few. In September 2009, US designer Steven C. Strawder presented his label Stevie Boi with a new line of artful sunglasses. Rihanna wears them in the video above. Read the interview with Stevie Boi.

Source: Original article with video on http://www.fashionoffice.org/music/2009/rihanna11-2009.htm.


more fashion.at/mobile>
News from
July - August 2009
May - July 2009
April - May 2009
Jan - March 2009
October - December 2008