SWIMWEAR STYLE
spring/summer 2010
fashion by Museum, G-Star, Wolford, Crumpler, adidas, Freitag
Planning 2010!

In December 2009, it's time to calculate the next year 2010. The emerging new style is characterized by flexible time management on individual working places with the computer as the only constant.

The Trend Forecast 2011 by German designers foresees that the increasingly falling distinctions between sport, leisure and work time cause an easy style of living which is entitled in the analysis with 'Freedom'. This freedom will have its expression in an urban chic made of a new styled sportswear.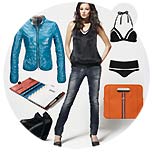 fig.: clockwise, beginning with the... original
Metallic blue jacket from the women's collection SS2010 by the Italian brand 'Museum'. The blue of the jacket looks like molten ice that flows in spring from the mountains. The Museum collections are influenced by the North American, especially Canadian style and have the typical Italian chic. The label takes many of its inspirations from the rich nature of the European Central Alps which are reaching from France, Italy, Switzerland, Germany, Liechtenstein, Austria to Slovenia.


Low Loose Tapered denim with midnight-black top by the Amsterdam headquartered label G-Star for spring/summer 2010. The Low Loose Tapered denim is a combination of the boyfriend pant and the skinny.


Neptune swimbra triangle and swimpanty by Wolford SS2010. The Austrian label Wolford presents three lines for swimwear in 2010; one of them is the Neptune series like the one on the picture on this page. The black/white bikini is made of an innovative, very fine fabric that dries in a short time. The design is inspired by the 40ies Hollywood style.


Crumpler released the leather laptop bag 'Executive Rice' in November 2009. On the photo you can see it in orange/white. It is available in six different color combinations and in three sizes: Medium for 13", Large 15", XL 17". The 'Executive Rice' has a detachable shoulder strap and can be used on the bike or scooter.


Shoes from the adidas SS2010 collection.


The calendar 2010 'F26 Marty' by the Swiss brothers Daniel and Markus Freitag. Read more about the Freitag brothers and their products on "Future timings influence the present".

Source: Original article with images on http://www.fashionoffice.org/collections/2009/swimwear12-2009.htm.


more fashion.at/mobile>
News from
September - October 2009
July - August 2009
May - July 2009
April - May 2009
Jan - March 2009
October - December 2008