ASTA INTERNATIONAL
spring 2010
Jewellery that promotes the use of the jungles in a sustainable way
In late December 2009, the South American jewellery label Asta International, named after the owner's first name 'Asta', has sent Fashionoffice information about its products in Colombian design.
Question: Are you the designer of the pieces?
Asta, from Asta International: "I am not the designer of the pieces: local artisans from Colombia design. I choose colors and layouts and length of necklaces, and shapes of some pieces."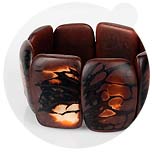 fig.: Bracelet made of Tagua nut (a very light natural product) from the Andina by Day collection from Asta International, spring 2010. Photo: (C) Dainius Macikenas 2009
Asta, born in Lithuania, moved in 1997 to US, is a passionate traveler who has finished and attended several studies, especially in economics and public administration, before she experienced on one of her trips the rich Colombian culture and the material for the jewellery.
"Wondering through the streets of small town Villa De Leiva, Colombia. I noticed a deep shade of coral I'd never seen before; it was Tagua nut. I learned from locals Tagua nut comes from the Tagua palm tree, located in humid mountainous zones of Colombia, Ecuador and Panama. It has the cellular structure similar to that of elephant ivory, is known as the ivory of the vegetable world. It is a renewable rainforest crop Tagua nut in products promotes the use of the jungles in a sustainable way." remembers Asta her first impressions from the Tagua nut which is used for the jewellery.
By reading her biography, it seems as if Asta has focused her education and taste on this project to realize a social idea.
"There are more important and personal reasons behind the development of AstaInternational – a chance to provide a quality education to many deserving students. I have created the AstaInternationl Education Fund, a non-profit, to raise funds for educational scholarships to low income Lithuanian families. To support the Fund, I am donating 10% of the net revenue from AstaInternational and 100% of the net revenue from the Jewel of the Month. I choose this idea due to my personal experience years ago that made me make this drastic decision to move out my home, away from my family to pursue a better life & education." says Asta.
Asta even appears as model for the Amazon Collection on her website www.astainternational.com.
Jewellery by Asta International is available in Boston and Japan. In early 2010, the label's two (for day and night) collections will premiere on the international stage at an accessories expo in New York.

Source: Original article with image on http://www.fashionoffice.org/design/2010/asta1-2010.htm.


more fashion.at/mobile>
News from
December 2009
November - December 2009
September - October 2009
July - August 2009
May - July 2009
April - May 2009
Jan - March 2009
October - December 2008