DIRK BIKKEMBERGS
spring/summer 2010

Inspired by South Africa, football, motorcycling
In February 2010, the Milan based Belgian football addicted designer Dirk Bikkembergs presented a special edition of jeans, leather jackets, and knitwear in biker style inspired by the landscape and cultural diversity of South Africa, where the FIFA 2010 World Cup happens from 11 June to 11 July.
Dirk Bikkembergs has created symbols made of graphics and special stitchings for nine cities (Cape Town, Johannesburg, Durban...) in South Africa. The shirts have the vintage touch of a motorcycler who lives 'on the road' to reach his goal: taking a seat in a football stadium.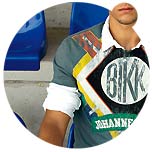 fig.: original Vincent Laurini in Dirk Bikkembergs, spring/summer 2010. Vincent Laurini, born 1989, is defender at F.C. Bikkembergs Fossombrone, Italy. He started his sports career in France. Since summer 2009, Vincent Laurini is in Italy. On the website of the football club, he is characterized with some personal notes such as that Vincent enjoys browsing the internet, that he loves American movies like Gladiator, etc. By the way: one of his technical characteristics is shooting well with the right and left foot. According to the website, his best quality is "attacking the opponent". "The player he would never want to meet as an opponent? Cristiano Ronaldo." fcfossombrone.it.
Video: The flagship store of Dirk Bikkembergs in Milan, posted in March 2009. The Belgian designer with German roots, Dirk Bikkembergs (born 1959), known as one the famous 'Antwerp Six' who graduated from Antwerp's Royal Academy of Fine Arts in the early eighties together with Walter Van Beirendonck, Ann Demeulemeester, Dries van Noten, Dirk Van Saene, and Marina Yee, has opened his first flagship store, or more precisely: football player house, on 26th February 2009 in the center of Milan. For the opening, over 100 football players were running through the streets of Milan, dressed in Dirk Bikkembergs jumpsuits with one number on their back: 47, the house number of their destination: Via Manzoni 47.

Source: Original article with image and video on http://www.fashionoffice.org/collections/2010/dirkbikkembergs2-2010.htm.


more fashion.at/mobile>
News from
December 2009
November - December 2009
September - October 2009
July - August 2009
May - July 2009
April - May 2009
Jan - March 2009
October - December 2008


subscribe
terms
imprint
Sawetz (C) 2008/9/10