NEIL BARRETT
fall/winter 2010/11

What do fashionistas say about Neil Barrett's work?

On 17th January 2010, the British in Milan based designer Neil Barrett has shown his new men's wear collection fall/winter 2010/11 during the Milan Fashion Week. Fashionoffice has looked through the collection, searched what others say, and has asked Italian photographer Paolo Simi about his work behind the scene at Neil Barrett.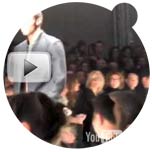 Video: Neil Barrett fall/winter 2010/11 during Men's Fashion Week in Milan on 17 January 2010. Producer of the video is the London based magazine Buckstyle by Steve Doyle. The video is filmed and edited by Celia-Jane Ukwenya. The magazine reports from several shows with information about theme, key items, styling, etc. Buckstyle entitles the Neil Barrett theme " Easy Rider".
Neil Barrett has studied at the Central Saint Martins School in London before he started as men's wear designer at Gucci. In 1999 he has founded his own label after he has left his job as Prada men's wear designer in 1998. In 2006 he has dressed the Italian football team for the World Cup campaign; at the same time Neil Barrett was creative director for Puma.
The former Gucci and Prada designer whose fashion dresses up Hollywood stars like Brad Pitt and musicians Nelly Furtado, Lenny Kravitz... on glossy covers is especially known for his leather jackets that look as if they are already worn. Justin Timberlake, for example, wears a vintage leather bomber from the designer in the video '4minutes' with Madonna.
For the fall/winter collection 2010/11 he presents besides the iconic leather jackets, de-constructed pieces made of wool with parts in leather such as half leather sleeves on jackets or mi-partie trench coats. The main colors are black and (dark) grey for the jackets, coats, and the - mainly leather - trousers. Neil Barrett combines them to shirts that show the same de-constructed style such as one half of the shirt is in white, the other in light-grey.
'The Fashionisto' analyzes the fashion as a 'game of Jekyll and Hyde'. Probably this psychoanalysis of fashion goes to far; the constructed pieces with vintage appeal seem much more bringing together the casual-rock style with classical tailored suits than a split personality. The vintage touch is enhanced by the citation of the tradition to patch textiles with leather.
But even the men's specialists at the magazine GQ are entitling the mi-partie and de-constructed pieces with the - probably new fashion - term 'Schizo style'. GQ writes "Neil Barrett has all your schizo style needs covered."

Italian photographer Paolo Simi backstage at Neil Barrett
The Italian photographer Paolo Simi was at the show in Milan and reported for the US magazine Dossier Journal. Fashionoffice has asked him about his work and especially one impressive picture that he has taken backstage.
Question: Paolo Simi, you are publishing your photos about the Milan Men's fashion shows on the Dossier Journal (http://dossierjournal.com/style/author/elisasimi/) with text by Elisa Simi. Are you married to her?
Paolo Simi: NOT SHE IS ONLY MY SISTER. AHAHHA RIGHT ! SHE IS A JOURNALIST AND TV PRODUCER WORKING IN MILAN FOR SEVERAL COMPANIES.
Question: Is the Dossier Journal based in Brooklyn, New York?
Paolo Simi: YES IN A VERY COOL AREA.
Question: Are you from Milan and working from here for Dossier Journal? Where do you come from and where are you living?
Paolo Simi: YES DOSSIER JOURNAL HAS ME AS PHOTOGRAPHER IN MILAN THEN SOME OTHER IN NEW YORK, SOME IN PARIS... WHERE THE FASHION IS ! I AM LIVING IN MILANO FOR 15 YEARS IN A VERY COOL AREA ( PORTA GENOVA-VIA SAVONA-VIA TORTONA) BUT I AM ORIGINALLY FROM TUSCANY ( SMALL TOWN CALLED LUCCA). i HAVE TRAVELLED A LOT, SPENT TIME IN VENICE, LONDON AND NEW YORK.
fig.: original Backstage at Neil Barrett during the men's shows in Milan on 17 January 2010. Photo by Paolo Simi.
Question: The photo from the backstage of the show for the British in Milan based designer Neil Barrett is impressive. You are giving the scenery an early 20th century touch. Probably you have captured one characteristic of the model job which is rarely on focus: the long time of waiting. Are you inspired by the designer's style for your photos or more by the atmosphere – or both?
Paolo Simi: YOU TOOK THE GOAL ! I HAVE A MODERN CONCEPT OF PHOTOGRAPHY BUT WITH A VINTAGE HAND.FILMS....PELLICOLAS...... ( I AM OVER 30'S....OLD GUY :) EHEHE) I TRY TO MAKE THE PICS ALSO LIKE A REPORTAGE AND IN THE BACK STAGES "WAITING" IS A VERY MASSIVE IMPORTANT MOMENT. I THINK TO HAVE TAKEN IT TOO !!
Question: By looking through the photos you have published, it's Neil Barrett who gets the most photographic 'views' from you. Can you remember why?
Paolo Simi: I LIKE HIS STYLE VERY MUCH, I LOVE BRITISH PEOPLE TOO, I AM A KIND OF NEW "MOD", QUADROPHENIA IS ONE OF MY FAVOURITE MOVIES... HE INSPIRED ME A LOT AND ALSO THE PEOPLE OF HIS CREW. LOVELY PEOPLE TO WORK WITH :)

Source: Original article with video and image on http://www.confashion.com/fw2010/neilbarrett1-2010.htm.


more fashion.at/mobile>
News from
December 2009
November - December 2009
September - October 2009
July - August 2009
May - July 2009
April - May 2009
Jan - March 2009
October - December 2008