SPORT STYLE
spring/summer 2010
beauty by Clinique
fashion by Alexander McQueen, Peak Performance, Diesel
A space where conventions can be broken
The idea of a space that unifies the urban landscape and nature is called by Peak Performance 'Mount Metropolitan'; it's a space where conventions can be broken and myths are allowed to be destroyed to give new fashion room and make casual wear linking to the idea of sport.
It's a fact that designers are working on fashion that combines outdoor functionalities and casual urban wear. This new view is already reflected in music videos such as singer/songwriter Jenny Wilson performs her nature ceremony with children for 'Like A Fading Rainbow in urban sportswear on the grassland and in the forest.
The forest, its woods and berries, the elements fire, water, and air are the inspiring sources - in the case of Diesel nearly a spiritual discipline - for the designers of the new spring/summer beauty and fashion collections in urban sport style.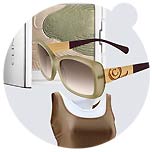 fig.: from above original
'Fresh Picked Pear' eye shadow by Clinique spring 2010 (comes into stores in February). For the Clinique make up collection spring 2010 the inspiration comes directly from the forest and its fruits: especially berries and pears. The fresh red berry colors bring light-reflecting shimmer to the cheeks and all-over the face. On this page, you can see the eye shadow in 'Fresh Picked Pear'.
Sunglasses in sand/dark olive and black by Alexander McQueen SS2010. The McQueen 'CG' monogram is engraved into a wood-insert. Wood is one of the favored materials of the designer.
Double top by Peak Performance SS2010. The Scandinavian functional sportswear label Peak Performance has once again created a casual collection under the aspect that outdoor experiences don't end in metropolitan cities. 'Mount Metropolitan' is the inspiring idea for pieces that are functional as sportswear but elegant/casual like urban wear. The 'Mount Metropolitan' is the designers' fantastic space where conventions can be broken, myths are allowed to be destroyed and new room is created for innovative fashion that links the idea of sport.
'Strip Club' bag by Diesel SS2010. The collection's title is 'Diesel Alchemy'. The alchemistic elements fire, water and air have inspired the designers, such as for the striped bag on this page. The metallic colors are symbolizing the reflections of water; the maritime flair is evoked by the stripes. The collection has been designed by the Diesel Creative Team, headed by Creative Director Wilbert Das.

Source: Original article with images on http://www.beautyme.com/cosmetics/2010/sportstyle1-2010.htm.


more fashion.at/mobile>
News from
December 2009
November - December 2009
September - October 2009
July - August 2009
May - July 2009
April - May 2009
Jan - March 2009
October - December 2008