VALENTINE MAN
spring 2010
fashion by New Yorker, Ray Ban (trend advice by Unitedoptics.at), Swatch (design by Matthew Langille), Timberland
The scheme for Mr. Valentine
Question: What is love on the first sight?
Answer: When his look fits into your scheme.
Question: What is a scheme?
Answer: This is very individual. You will become aware of it as soon as Mr. Valentine comes your way.
Question: Will this love last for ever?
Answer: It's love on the first sight. You have to look twice.
The once questioning one: Twice is no problem when he is looking good!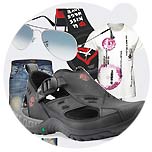 fig.: original clockwise, beginning with the...
Ray Ban Aviator is selected by Unitedoptics.at as one of the trend pieces for spring 2010. United Optics is an eyewear store chain in Austria which has released a trend preview under the title 'Vintage'; especially the 40ies and 50ies are reflected in the forms and colors of the classical glasses in mostly sportive style.
Love Seconds by Swatch, Valentine's special edition 2010. It's now the 4th Swatch design that is created by the New York based graphic artist and designer Matthew Langille. "It is dedicated to my wife and I used our wedding colors...so it's an homage to my wife and our wonderful new marriage! I am very proud of this design..." says Matthew Langille about the design of 'Love Seconds'.
City Adventure Sandal by Timberland, spring/summer 2010. The upper material of the shoe is made of leather which has a recycled mesh lining; the Anti-Fatigue-sole is damping the steps.
Jeans from the 'Fishbone' line and t-shirt from the 'Smog' collection by New Yorker, SS2010.

Source: Original article with images on http://www.fashionoffice.org/collections/2010/valentinemen1-2010.htm.


more fashion.at/mobile>
News from
December 2009
November - December 2009
September - October 2009
July - August 2009
May - July 2009
April - May 2009
Jan - March 2009
October - December 2008