XULY BET
Costume designer for the opera 'more more more... future'
24 + 25 + 26 May 2010
Wiener Festwochen

Fashion and music in punk-Afro style
In January 2010, the Viennese cultural festival with main focus on theatre productions, the 'Wiener Festwochen' announced that the punk-Congolese pop music opera 'more more more... future' and dance performance with costumes by the Paris based designer and fashion recycler Xuly Bet will have its Austrian premiere in May 2010.

Video: Xuly Bet's Fashion Show during Paris Fashion Week, October 2009. Xuly Bet is the label name by Lamine Badian Kouyaté (born in Mali 1962). It means 'watch out' in the Senegalese language 'Wolof'. He started his career with patchworks of recycled clothes (a traditional African technique) which made him famous in the early 90ies. Already in 1994, Xuly Bet gained cult status; Forrest Whittaker played his character in Robert Altman's movie 'Prêt-à-Porter'. In the same year he was awarded for his design work by the New York Times. Xuly Bet is described as urban-punk-pop Afro fusion fashion which makes it fitting perfectly into the opera 'more more more... future'. On the stage you will see costumes in African patchwork style.
The Congolese choreographer, director and dancer Faustin Linyekula says about the Congolese pop music, called 'Ndombolo': "Ndombolo sings of beautiful women, fine clothes, expensive cars", Linyekula says, "as if it just grew on trees, in a country where in fact you have to start all over again every day."

For the opera he has changed the texts to make it more punk 'no future' meets the Congolese 'any future is possible' and brings the emotion of a country that was reigned in the last years by war and corruption onto stage. The opera will be shown in French with German overtitles.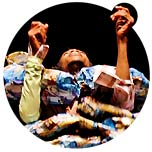 fig.: Costume by Xuly Bet for "more more more... future"; directed by Faustin Linyekula, Studios Kabako. Photo: Agathe Poupeney.
For the ones who are now interested in making patchworks or keen about working with African textiles, Fashionoffice has collected from its received information following contests:
Patchwork Europe invites to the competition "When materials collide"; deadline is 10 July 2010.
"For its 16th edition, the contest of the European Patchwork Meeting inclines you to overcome the restraints of fibre and to integrate non-textile materials into your piece. You will have to build a composition including fabrics and at least one non-textile material..." describes Patchwork Europe the contest. Find details on patchwork-europe.com.
Slow Fashion makes a contest around African textiles and accessories; details and what you have to deliver until 10 February 2010 on slowfashion.at.

Source: Original article with image and video on http://www.fashionoffice.org/culture/2010/xulybet1-2010.htm.


more fashion.at/mobile>
News from
December 2009
November - December 2009
September - October 2009
July - August 2009
May - July 2009
April - May 2009
Jan - March 2009
October - December 2008