Fashion pieces seen at the American Football World Championship in Austria

From 8 to 16 July 2011, Austria is the host of the 4th IFAF World Championship of American Football. The best eight national teams of the world will play the next days in Graz, Innsbruck and Vienna.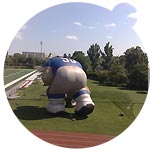 fig. original: The American Football place in the Ravelinstrasse in Simmering, Vienna. The oversized American Football Player was temporarily installed in June 2011.
Fashionoffice has taken a look at the digital Teamzone - physically, Teamzone is in the same street like Fashionoffice, for the official merchandising products (t-shirts, sweaters, accessories...) of the IFAF World Championship and found in the partner shop some pieces that look good - even if you are not a sport addicted; especially the 'Russell Crewneck Tee American Football' t-shirt with photo print of a player in action - it gives a good impression of football as a strategic team sport. The print has a touch of vintage - just like taken out of the sports pages of a daily newspaper where news are aging on paper faster than their content; because the player wears contemporary fashion. The t-shirt is a product of the US label Russell which belongs to Fruit of the Loom. Russell delivers on Teamzone the fashion pieces in American sports style. The brand produces since more than 100 years active wear.
"The history of American Football in Austria started a little over 30 years ago. ... Austria may not be among the top favorites to win the World Championship of American Football this summer but don't tell that to the players. They couldn't be more motivated to shock the American Football world and win the title..." state the Austrians on americanfootball2011.com/en/newsdetail/archive/2011/06/26/article/our-house/.



Source: Original article with image on http://www.fashionoffice.org/culture/2011/americanfootball7-2011.htm.
News from
June 2011
May 2011
April 2011
March 2011
February 2011
January 2011

subscribe
terms
imprint
(C) Sawetz, since 1996