Bio-organic mutation of motorbikes

From 22 June to 21 August 2011, two bio-organic mutated bikes which are visibly in love are on show at the Istanbul (TR) based art space Arter where additionally to 'The Lovers' over 20 works (sculpture, installation, drawing, video) from 1997 until today by Patricia Piccinini are exhibited under the title 'Hold Me Close to Your Heart'.
Patricia Piccinini (born 1965 in the West African country Sierra Leone, since 1972 living in Australia) is known for her work around the environmental themes genetic engineering, biotechnology and self-regulating machines. Piccinini's hybrid creatures invite the visitors to throw a light on our contemporary world which is made of a merger of nature-human-technology from another point of view.
"She does not tell us what to think about genetic engineering, but instead asks us how we might feel when confronted by possibilities," introduces Arter to the exhibition curated by Başak Doğa Temür arter.org.tr/W3/?sAction=CurrentExhibitions.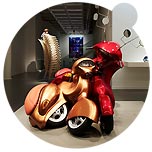 fig. original: 'The Lovers' by Patricia Piccinini, 2011. Fibreglass, steel, leather, scooter parts, automotive paint; 196 x 224 x 167 cm. Photo: Fethi Izan. Photographed in the art space of Arter in Istanbul (TR) on occasion of the exhibition 'Hold Me Close to Your Heart' from 22 June to 21 August 2011.
On a video, the artist speaks about her work which was presented from 16 April to 26 June 2011 in the exhibition 'Patricia Piccinini: Once Upon A Time...' at the Art Gallery of South Australia. Patricia Piccinini received in Australia wide public attention with the oversized sculpture 'Big Mother' (a genetically-engineered creature which is breast feeding a human baby).


Source: Original article with image and video on http://www.fashionoffice.org/culture/2011/arter6-2011.htm.


more fashion.at/mobile>
News from
June 2011
May 2011
April 2011
March 2011
February 2011
January 2011

subscribe
terms
imprint
(C) since 1996 Sawetz