Red head, the wolf and adventurous dreams
...are the ingredients of the collections by the German/French design duo Augustin Teboul, consisting of Annelie Augustin und Odély Teboul; both graduated in 2006 at Esmod Paris. Teboul worked for Jean-Paul Gaultier, Augustin for Y-3... before they founded in 2010 their own label 'Augustin Teboul'.
Video: The latest collection autumn 2011 'Little Red Head' by Augustin Teboul is accompanied by a text about the meeting with 'Monsieur Wolf'. "Damn, I was so fucking beautiful!" says 'Little Red Head' in the story and lets the reader/viewer in doubt if she is still the same little girl Brothers Grimm reported about.
On 6 July 2011, Augustin Teboul will release a new story for the summer 2012 pieces. This time, the story is made of the designers dreams and carries the title 'Dreams are my reality'. The SS2012 collection will be presented in a surreal arranged show installation in collaboration with the orange liqueur label Cointreau during Mercedes-Benz Fashion Week Berlin.
The source for the creations SS2012 are the dreams of the Augustin Teboul designers who have written down their night adventures over some months. The result is a 'dream substance' made of music and deep-black fashion pieces which are described with following words: "Beauteously disturbing sounds sphere long gowns in sheer silk with sophisticated, handcrafted details. A crocheted Body reveals sensually and enhance the body. Soft leather makes the rebellious contrast when piled with beaded fringes or appears gracefully in combination with delicate crochet."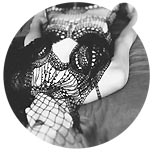 fig. original: Preview image of the collection 'Dreams are my reality' SS2012 by Augustin Teboul.
Augustin Teboul created a handcrafted pair of refined black gaiters (limited edition) for the orange liqueur Cointreau. The installation in Berlin will introduce into six dream worlds of the designers. The leading themes are erotic, traveling and immobility.

AUGUSTIN TEBOUL show installation 'Dreams are my reality' (presented by Cointreau)
6 July 2011; 3.30 pm to 6.30 pm; during Mercedes-Benz Fashion Week Berlin
Former Horse Stable of the Bötzow-Brewery, Saarbrücker Str. 5, 10405 Berlin
BY INVITATION ONLY!

Source: Original article with image and video on http://www.fashionoffice.org/collections/2011/augustinteboul6-2011.htm.


more fashion.at/mobile>

News from
June 2011
May 2011
April 2011
March 2011
February 2011
January 2011

subscribe
terms
imprint

(C) since 1996 Sawetz