BURBERRY
spring/summer 2011

Street style with music and multimedia in London
On 12 May 2011, the British brand Burberry celebrated the opening of the first UK store for the urban street style 'Burberry Brit' (globally already the 7th Burberry Brit store) on King Street in Covent Garden London. The event was attended by more than 300 guests from the Londoner fashion and music scene such as Julia Restoin-Roitfeld and the British band 'Life in Film'.
The video shows the band 'Life in Film' performing 'Idiot' for a Burberry store opening in Milan in June 2010. The British band 'Life in Film' was selected in 2010 by Burberry's creative chief Christopher Bailey for the 'Acoustic'-music activities of the brand. At the event on 12 May, the Burberry Acoustic band 'Life in Film' performed a live acoustic gig.
"Music is intrinsically connected to Burberry Brit; it's very much the attitude and energy flowing throughout the collection and the store. It's very modern, it's a little bit dishevelled and it's distinctively British," says Christopher Bailey, Burberry Chief Creative Officer.

The flagship store in Covent Garden London is following the design concept of Christopher Bailey, who is responsible for the overall Burberry fashion, beauty, and communications. Already in September 2009, Bailey pioneered the interactivity of the fashion world. He invited users to comment the live stream of Burberry's fashion show via Twitter and Facebook. Burberry was the first fashion label which has set up a blogging suite to enable the guests to blog directly from the after show party.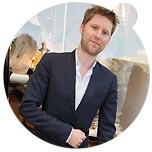 fig. detail: Christopher Bailey; original: Julia Restoin-Roitfeld wearing Burberry, Christopher Bailey. Photos: (C) Maurits Sillem.
Recently, Julia Restoin-Roitfeld (daughter of legendary French Vogue chief editor) was mentioned as model/actress (short movie 'The Crush') in several fashion publications about the new media 'Fashion Film' and what editorial fashion movies should fulfil.

fig. original: The label's multimedia addiction is consequently reflected by video walls in fashion stores. Into the new store, Bailey has integrated x4 touch screen video walls showing digital content directly uploaded by the Burberry headquarter.

Source: Original article with images and video on http://www.confashion.com/ss2011/burberry5-2011.htm.


more fashion.at/mobile>

News from
May 2011
April 2011
March 2011
February 2011
January 2011

subscribe
terms
imprint

Sawetz (C) 2008/9/10