TRAVEL STYLE
spring/summer 2011

Inner-city traveling

In summer 2011, inner-city traveling is a hot theme. You can find it on t-shirts with photo-prints of people in trains of metropolitan cities and in new concepts for the combination of car and bike. When you are following these new trends, probably you are not the fastest on the streets - but in a comfortable mode to face the inner-city chaos...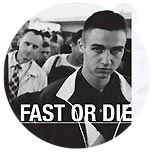 fig. original above: T-Shirt from the 'Fast Or Die' collaborative project of street artist, graffiti and urban lifestyle documentarist Alex Fakso and the Italian label 55DSL, SS2011. Below: E-bike by the Austrian label beeon, seen in June 2011.
The Italian label Diesel has several lines; one of them is 55DSL. Creative director of 55DSL is Andrea Rosso from the family of Diesel founder Renzo Rosso. He has studied pattern cutting in Padova and Textile Development and Marketing at the Fashion Institute of Technology in New York. Andrea Rosso approaches fashion from street-sport-art with rebel touch.
The t-shirt on this page was developed in collaboration with one of his friends from childhood who shares the same passion for street art and urban culture, artist Alex Fakso.
Alex Fakso is an addicted street photographer - especially trains - all began with capturing his own graffiti works at the age of thirteen. Since the early 90's he is part of the graffiti movement and its documentarist.
For 'Fast or Die' (t-shirt on this page), he made photographs of people in the 'underworld' of metropolitan cites in UK, Russia, Japan, US... The result of his world travel is a photo strip of 60 images. Since April 2011, 6 images are exhibited on the shirts in selected 55DSL stores worldwide, on the e-shop, www.damianieditore.it, and on www.fakso.com.
In early June 2011, the car label 'Subaru' and the e-bike label 'beeon' started an Austria-wide cooperation for a new fashion of inner-city traveling. New car models by Subaru are upgraded (until 31 August 2011) with the light (15 kg) and foldable e-bike by the Graz (AT) based label beeon. With the max. speed of 25 km/h you are not the fastest - but in a comfortable mode to face the inner-city chaos. Find more details about the e-bike with energy for 50 km on www.beeon.at.
Source: Original article with images on http://www.fashionoffice.org/motor/2011/ebike6-2011.htm.


more fashion.at/mobile>
News from
May 2011
April 2011
March 2011
February 2011
January 2011

subscribe
terms
imprint
(C) since 1996 Sawetz