summer 2011

Fashionoffice 'Likes'

In July 2011, Fashionoffice collected some pieces which deserve a 'Like' posting. The collection on this page is inspired by the integration of media (TV, online video) and hightech/nature into everyday objects of fashion and beauty.
fig. original: Anti-Fatigue Cooling Eye Gel for men by Clinique, comes into shops in August 2011. By applying the gel serum containing ingredients from nature (caffeine, gingko, hop, yeast) with the medical stainless steel rollerball in circular moves around the eyes (beginning from the inner eye outwards) helps to diminish puffiness and shadowy rings.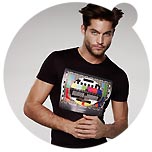 fig. original: Underwear shirt and shorts 'Freeze Frame' by Bruno Banani, presented in summer 2011. The colorful illustration refers with the TV-test screen to a 'signal disruption'; printed on underwear, it means probably not only TV disruption.
fig. original: HD Webcam HD-2200 in elegant design combines high technology with simple usage (keyword: 3-clicks) from the new accessory-portfolio by HP, presented in June 2011. The webcam received recently the 'Innovations Design and Engineering Award' at the CES 2011.


Source: Original article with images on http://www.fashionoffice.org/collections/2011/fashionofficelikes7-2011.htm.


more fashion.at/mobile>
News from
June 2011
May 2011
April 2011
March 2011
February 2011
January 2011

subscribe
terms
imprint
(C) since 1996 Sawetz