FESTIVAL STYLE
spring/summer 2011
fall/winter 2011/12

How to dress at music festivals in 2011?
In May, Fashionoffice has already collected pieces for festivals in Austria like the Nova Rock and Frequency Festival on Equipment for outdoor music festivals and the poolbar Festival Fashion & Music.
On this page now, you will find some pieces which are especially advised by international labels for the music festival style 2011 and additional new items that are following the idea of outdoor entertainment.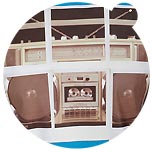 fig. original:

Blue t-shirt 'Polaroid Boom' with photo-print of six polaroids showing like a puzzle a tape recorder by the British urban sports wear label Bench, sent on occasion of the Melt Festival from 15 to 17 July 2011 in Ferropolis nearby Dessau (DE).

Bench is this year's 'Presenting Sponsor' of the Melt Festival. Announced is a wide range of music styles from alternative pop/rock over advanced hip hop to dubstep with bands like Miss Kittin, Plan B, White Lies, Boys Noize, Digitalism...

Bench is the outfitter of the bands and DJs at the Melt Festival and selected clothes with outdoor qualities that resist any weather; the prints relate to music.

Culver cap by Levi's, presented as style tip for the music festival scene 2011. For the American jeans label Levi's, festival outfits have to be functional (such as the cap protects from sun) and shall fulfill at the same time the requirements of stylish fashion as music festivals become more and more society events. Levi's names as example the Coachella Festival in California where celebrities like Sienna Miller, Joshua Jackson or Pixie Geldof (and especially their outfits) have attracted the society press worldwide.

Street pack by Line Skis, FW2011/12.

Men's fragrance 'PUMA jam!', comes into shops in June 2011. This scent is created on the idea to pack 'holidays on the beach and reggae music' into a bottle which contains a fruity-fresh fragrance and a salty breeze. On the flacon, the sunburned alike letters print 'Live Reggae. Jam. on the beach & Roots. * one love. Allniteallday' promotes the lifestyle of outdoor music.

Watch by Tommy Hilfiger, seen in May 2011. The mash up style of the watch evokes the impression as if it is built from two or three various models. It is not only showing different colors, but also variations on the graphical display.

Micro fleece towel 'Kampn' (what means translated 'camping') by Maloja, seen in May 2011.

Typhoon 125 Sport in titanium grey by Piaggio, seen at Faber Roller & Bike in Vienna in May 2011.

Source: Original article with images on http://www.fashionoffice.org/motor/2011/festivaltour5-2011.htm.


more fashion.at/mobile>

News from
May 2011
April 2011
March 2011
February 2011
January 2011

subscribe
terms
imprint

Sawetz (C) 2008/9/10