MUSIC IN AUSTRIA
spring/summer 2011
Fashion & music
In May 2011, fashion pieces by musicians and special designs for music events were sent as digital press kits to Fashionoffice.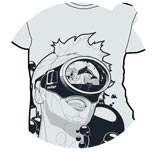 fig. original: Such as the t-shirt 'The Explorer' (showing the face of a diver and water bubbles printed on organic cotton) by the German illustrator Michael Schinköthe for the 'poolbar Style' of the poolbar festival in Feldkirch in Austria (1 July - 15 August 2011). The t-shirt was launched on 19 May. The poolbar festival has extended its own style collection for 2011 and offers poolbar underwear by Huber Trikot and festival bags by Urban Tool. International music acts like the Belgian group dEUS, Brooklyn based Hercules & Love Affair - Wolfram, Santigold, Macy Gray... to name a few, are announced on poolbar.at/programm.
fig. original: The tote bags with spacy sewing/piano machine made by the German musician Illute with ecological intention (use it instead of throw-away plastic shopping bags) premiered in May together with the tour dates and the free download of the cover version of Peter Schilling's 'Major Tom' on lasvegasrecords.at. Berlin based Illute sings in German, Japanese, Spanish, and English; she is on tour in Austria: 26 May in Feldkirch, 27 May Salzburg, 28 May Linz, 30 May Vienna...
Source: Original article with images on http://www.fashionoffice.org/music/2011/musicaustria5-2011.htm.

more fashion.at/mobile>
News from
May 2011
April 2011
March 2011
February 2011
January 2011

subscribe
terms
imprint
Sawetz (C) 2008/9/10