BEAUTY INSIGHT by publisher Karin Sawetz June 2011
Karin Sawetz is journalist, media researcher and fashion scientist (Mag. Dr. phil.).
Visualisation of a scent with art and music
In June 2011, the fashion and beauty label Kenzo (founded in 1970 by Kenzo Takada, the label belongs since 1993 to the LVMH group) invited journalists to the presentation of the new fragrance 'Flower Tag'. In the center of the campaign is a video which delivers impressions of the invisible composition of a powdry-flowerish-fresh scent with scenes from a rooftop with red poppies and view over Paris, graffiti street art and music. The Kenzo presenters played the video twice - the first time with information about the artwork for the editorial writers; the second time to get impressions from the interplay of scenery, artwork and music. One journalist (all of the 30-40 journalists were women!) asked excitedly: "Who is the musician?" Until today (24 June), I couldn't find the video online yet, but you can listen to the music and view the original music video of the song 'Cross To Bear' by Paris based UK musician Tricky online.
Original music video 'Cross To Bear' by Tricky from the album 'Knowle West Boy' (2008, Domino Records). Parts of the song were chosen by Kenzo for the campaign video 'Flower Tag'; it is announced that the campaign video will be made public soon.

By the way: Tricky's new single 'Time To Dance' from his latest album 'Mixed Race' with remixes from Maya Jane Coles, Doorly, and FiFi Rong comes out as digital single on 18 July 2011. Details on dominorecordco.com/uk/news/10-06-11/tricky-to-release-new-single-and-remixes-and-headline-blissfields-festival/.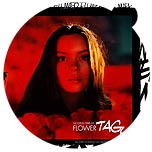 fig. original: Campaign image of 'Flower Tag' by Kenzo, release in June 2011. Artwork by Harold Berard (ADM). Model: Edyta Zajac. Photography: Patrick Guedj.

Source: Original article with image and video on http://www.fashionoffice.org/music/2011/kenzo6-2011.htm.

more fashion.at/mobile>
News from
June 2011
May 2011
April 2011
March 2011
February 2011
January 2011

subscribe
terms
imprint
(C) since 1996 Sawetz