New Media & Earthy Fashion
spring/summer 2011
fall/winter 2011/12
Fashion movies

In June 2011, the French headquartered couture online store and catalogue retailer La Redoute has sent the information that Vanessa Bruno is the new guest designer in fall/winter 2011/12 for a limited edition of pieces for women, girls, babies.
The designer uses new media in an elegant way to spread the information about her nature inspired collections; especially the activities in producing the new format 'online fashion movies' make the label mentionable in the field of new technologies.
It is worth to visit Vanessa Bruno's website. The site integrates new media very unspectacular without loosing the focus on the content: the philosophy of Vanessa Bruno is packed into a puristic layout which navigates the user easily to the collections. The seasonal women's wear is presented additionally to catwalk views with fashion movies; the leading thread of the films are the elements of life (in SS2011 especially water). The short movies are already embedded on several edgy online fashion sites. The hyperlink to the latest SS2011 Vanessa Bruno film can be found on this page (below).
The nature addiction of the designer is communicated on vanessabruno.com with another new media mix; this time fashion and music. Under the category 'Plant a Tree', Vanessa Bruno invites users to buy a compilation of songs (on a physically released CD - available at Colette in Paris) for the support of reforestation.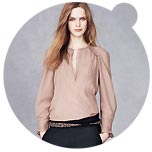 fig. original: Vanessa Bruno for La Redoute FW2011/12. For women: vintage style blouse in powder made of cotton with lace details; bejeweled belt with glass stones; trousers with silk lining. For kids: woolen outdoor jacket with fake fur, cotton blouse, skirt, and mini-tote. Photos: (C) La Redoute. The collection comes into La Redoute online shops in July 2011 (limited edition).
Vanessa Bruno's fashion movie 'Miracle' for the SS2011 campaign with Lou Doillon and Jessica Joffe, directed by Stephanie di Giusto. Anothermag.com has interviewed Vanessa Bruno about the inspirations for the film, the collection, and "how they managed to fill a car up with water, whilst Doillon was still inside." anothermag.com/current/view/805/Vanessa_Bruno_SS11_video
Last year, Vanessa Bruno has opend her first store in Los Angeles. The press deals Vanessa Bruno as celebrity designer with a touch of art-chic that is created for a new generation of females with individual styles. The Parisian chic of Vanessa Bruno is made of earthy, very feminine colors and materials; floating dresses for example are signature elements of her collections. Exclusively for La Redoute FW2011/12, the women's wear designer Vanessa Bruno has created her first collections for babies and girls.

Source: Original article with images and video on http://www.fashionoffice.org/collections/2011/laredoute6-2011.htm.


more fashion.at/mobile>
News from
June 2011
May 2011
April 2011
March 2011
February 2011
January 2011

subscribe
terms
imprint
(C) since 1996 Sawetz