Outdoor lifestyle becomes urban

From 14 to 17 July 2011, the German environmental friendly label Vaude will present the new collections of backpacks and sportive fashion spring/summer 2012 at the 'OutDoor' trade fair in Friedrichshafen at the Bodensee (DE). The new collections show a stronger integration of mountain and bike styles into urban life outfits.
Vaude announces that 73% of the SS2012 fashion pieces have gained the 'Green Shape'-sign for ecological products. At the OutDoor fair in July, Vaude will launch for the first time a special kid bike-collection made of bluesign-certified jackets and backpacks.

fig. original: 'Cityslickers' backpacks by Vaude(SS2012) are designed to protect multimedia devices like net- and notebooks, iPads, mp3-Player, smart phones, etc. Most of the pieces from the Cityslickers-collection are bluesign-certified. Photo: Moritz Attenberger.

The family company Vaude was founded in 1974 and started with tents and backpacks. Today, the label produces active wear (clothing, underwear, shoes, accessories...) for women, men and kids. On 4 July 2011, Vaude will receive the 'Red dot'-award for one of its mountain biking backpacks at the opera house in Essen (Essener Opernhaus, DE). The exhibition 'Design on stage – winners red dot award: product design 2011' presents the awarded products of 2011 from 5 July until 1 August 2011 at the red dot design museum.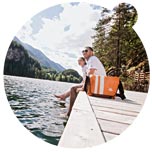 fig. original: 'Albert'-bag from the 'Wash Off - Packs 'n Bags'-collection by Vaude; the storage spaces of the new models SS2012 are updated. Photo: Moritz Attenberger.

Source: Original article with images on http://www.fashionoffice.org/collections/2011/vaude6-2011.htm.

more fashion.at/mobile>
News from
June 2011
May 2011
April 2011
March 2011
February 2011
January 2011

subscribe
terms
imprint
(C) since 1996 Sawetz