VIENNA INSIGHT by publisher Karin Sawetz June 2011
Karin Sawetz is journalist, media researcher and fashion scientist (Mag. Dr. phil.).
Vienna Fashion Night

Viennese VIPs arrive on time! I was 30 minutes too late and got no glass of water in the over-filled VIP-zone of the Vienna Fashion Night on 15 June 2011; so I started my way to the kitchen through the prominent crowd of people from fashion like couturier La Hong (image on this page), stage and TV, comedians and other people from the showbizz, the media and the ones everybody knows - whatever their profession is.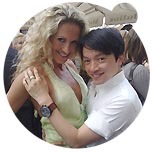 fig. original: Viennese couturier La Hong and his assistant who wears one of his silk dresses in the VIP-zone of the Vienna Fashion Night in front of the exclusive gourmet mall 'Julius Meinl' on the Graben; 15 June 2011.

Standing in front of the kitchen, I turned only one time my back and a man caught my glass. He wore a medical neck collar - I thought, probably he came in trouble because of bad habits he couldn't stop. On my way back to the entrance, another man stepped on my feet - fortunately onto the shoe and not on the toes as my black/beige high heel wedges with slim ankle band are very roomy; but it was not easy to get my shoe out from under his heel. So I tipped on his shoulder and excused him that he doesn't have eyes on the back of his head; he said that he is working on it.

I left the VIP-zone and went to the catwalk where Thomas Kirchgrabner (head of creation at the Viennese fashion house Liska) received the 'Designer of the Year Award' and designers from Czech, Hungary, Slovakia... and international labels like Jil Sander or Diesel presented their collections.

On the Graben around the catwalk, the people were not so close like in the VIP-zone - but it was narrow as well. Almost everybody had a camera and filmed or took photos. I don't know how many different languages I have heard on this day; Slavic languages, French, Italian, Turkish, English, German... And somewhile, I looked through the eyes of a tourist to my home city and its great architecture on the Graben, in a review I saw luxurious shops from Cartier over Wolford to Hermés.

But what a tourist can not see with the eyes is the typical Viennese sarcasm; British people call it 'Viennese snide humour'. I like Vienna; even when I have to search for a glass or release my shoe.

fig. original: Left: Snapshot of the catwalk where designers from several countries around Austria (Hungary, Slovakia...) presented their fashion. Right: Wireframe of the new Evoque by Range Rover on the Graben in Vienna.

Source: Original article with images on http://www.fashionoffice.org/collections/2011/viennanight6-2011.htm.


more fashion.at/mobile>

News from
May 2011
April 2011
March 2011
February 2011
January 2011

subscribe
terms
imprint

(C) since 1996 Sawetz