14 March 2018

Sustainable infrastructure professionals of the R20 Austrian World Summit (15 May, Vienna) will like the exhibition 'Bicycles! A Love Story' (28 Apr - 3 Jun)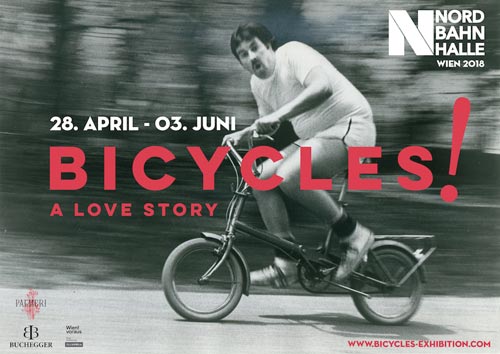 The department for city development 'MA18' of the Vienna government collaborates with the upcoming exhibition 'Bicycles! A Love Story' on view from 28 April until 3 June 2018 at the research driven (TU Wien - Technical University Vienna) experimentation space for sustainability Nordbahn-Halle. Announced is the presentation of artefacts like photos, films, objects,.. for a time-travel through 200 years of people's usage of the environmental friendly 2-wheel vehicle back to the pioneers of the 19th century (from 1820) and forwards to the future of urban mobility.
Accidentally during the time of the bicycle show on 15 May, the climate protection event dedicated to low carbon future and sustainable infrastructure 'R20 - Austrian World Summit' organized by the 'R20 Regions for Climate Action' initiative by Arnold Schwarzenegger will be held under the patronance of the Federal President of Austria Alexander Van der Bellen in Vienna.
fig.: Poster of the exhibition about the luck to ride a bike 'Bicycles! A Love Story'. Courtesy Sammlung Palmeri.


more motor>