27 March 2018

Havaianas sponsorship of Sahara Force India F1 Team is inspired by the new Halo system of the racing cars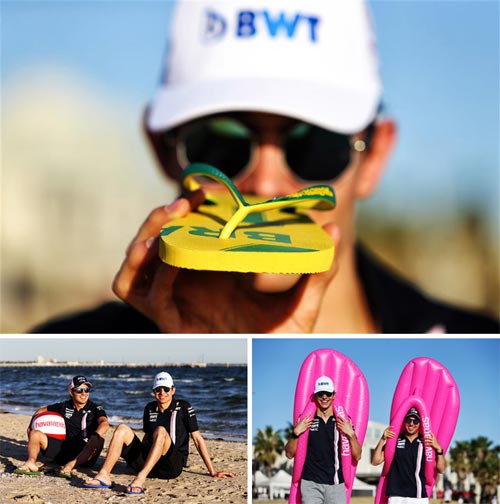 The new F1 'Halo' system - a titanium frame before and around the cockpit of F1 racing cars, has evoked already many discussions around drivers' safety (pro) or visibility from the cockpit position (contra). Seen from the fashion angle, the halo looks like a part of a shoe; yes, it looks like the Y-shaped strap of classical summer sandals!
At the first F1 race of this year, at the Australian Grand Prix in Melbourne last weekend, the collaboration between flip-flop brand Havaianas and the Sahara Force India F1 Team was presented. Havaianas appears this season with its brand logo on the security Halo which appears in its form like Havaianas beach sandals. According to Havaianas, the company has started the collaboration after online user had posted statements about the similarities. "At Havaianas, we pride ourselves on listening to the fans of our brand and over the few months we have seen more and more people associating our flips-flops with the new Halo across social media." says Márcio Utsch, CEO of Alpargatas, Havaianas.
fig.: On occasion of the launch of the collaboration with the Sahara Force India F1 Team, Havaianas sent some images from Melbourne showing F1 drivers Sergio Perez and Esteban Ocon with flip-flops at the beach. Pictures below, from left: Sergio Perez (MEX) Sahara Force India F1 with team mate Esteban Ocon (FRA) Sahara Force India F1 Team - Havaianas. Australian Grand Prix, Thursday 22nd March 2018. Albert Park, Melbourne, Australia. Right: Esteban Ocon and Sergio Perez.
Photos: James Moy, (C) Sahara Force India.


more motor>