Video: "Milk & Honey" from the new album "Stubborn"
"I remember seeing a classic American musical on TV at the Eiffel's, and it was like, how you say, when you see God?" Elodie saw Fred Astaire and Ginger Rogers, and everything made sense. Elodie was around eight years when she decided that show business was her future and enrolled in a tap-dancing class at the American Center. An intense dance, theatre and music training during her teenage years led to Elodie's acceptance into a renowned drama school at the Paris National Theater of Chaillot.
But Elodie knew that she needed to leave Paris for London or New York if she was to realize her Anglo-Saxon musical dream. After being chosen by the French ministry to study musical theater at NYU, she promptly moved to New York. However, some small Broadway roles quickly led to Elodie's disillusionment with her beloved musicals:
"My idea was to come and learn about this form of art and then make something out of it that was my own," she recalls. "But I found it such a commercial thing, kind of tacky. Not like the Hollywood of the 50's." She then alternated between New York and Paris and began moving more towards music, but not the music she had grown up with.
"I was raised on classical and jazz, avant garde and obscure stuff. Pop and rock were totally despised at home: it was considered cheap, bad music, you know?" She later formed a jazz-cover band in New York and began performing in bars and hotels.
"Stubborn" by elodieO

Electro 60s Nico-esque down-tempo songs about love
New York City based French electro musician elodieO's new album "Stubborn" will be released on 19 August 2008. elodieO sings, has composed and arranged all tracks on the album with the exception of two re-arranged songs of by Serge Gainsbourg and The Cure.
The musician is also a fashion stylist.
elodieO has worked on numerous projects from editorial, commercial work, print & TV, for clients such as: French Elle, BCE magazine(Fashion Editor), Elements magazine(contributor), Estee Lauder, and Hearst Group(contributor) to name a few. She will soon be releasing her own clothingline, starting with a selection of tees, tanks, and tops.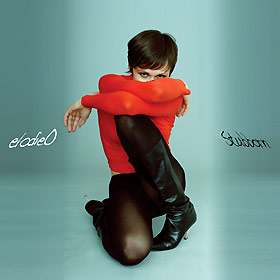 The new album "Stubborn" will feature guest spots from international artists, including Aaron and Jesse of the Brazilian Girls, The Cure, and French legend Serge Gainsbourg.
The lyrics are arranged in 60's Nico-esque pop with 90's era trip-hop creating a very fresh down-tempo sound. elodieO's whispery French chanteuse is as much pop music as it is experimental.
Her songs are about love relationships; the longing and desire for someone, something you don't have, and the anticipated pleasure of finally being with the object of your desire.
In the track "La Mer/The Sea" she sings: "People say that everything passes that love fades away and the wind sweeps away the prints of the lovers. People say that everything passes that time is a stream that dissolves the air that bounds that tightens us."
Nature, the sea, the wind, the impermanent seasons; all become regular protagonists in her surreal plaintives about loss and unrequited love.
Enjoy the travel from 60's French pop to hip-hop, new wave to straight electronica!
Check the music elodieo.com or myspace.com/elodieo


more music>>>