Traffic Sources of Fashionoffice
Duration:
25 August 2008 - 25 January 2009; interpreted in March 2009
Method:
Google Analytics google.com/analytics on a third-party standard (US, Globat globat.com, Linux) webserver
Google Analytics definitions:
google.com/support/googleanalytics/bin/answer.py?answer=99021&hl=en_US
Universe (Continents, Countries, Languages, Loyalty of the Visitors)
Additional reports: Keywords, High-ranking pages


Where do fashion people come from to read Fashionoffice?
In the last researches on the most favorite pages viewed and the most questioned keywords used to reach the magazine it became obvious that the users are reaching editorials mostly not from Fashionoffice's coversites or RSS, mobile sites..., because the favorite pages are from former years and can only be accessed through the archives of the magazine or from outside (bookmarks, referring pages, by typing in the address...). The following analysis shows where the traffic comes from.
Result: Most of the traffic to Fashionoffice comes from people who clicked from other sites (referring sites) to pages of the domains fashionoffice.org, beautyme.com and confashion.com. The next, more detailed report about the sources will be published in April 2009.
fashion

The Google Analytics reports of the "Traffic Sources" are explained as follows:
"This report provides an overview of the different kinds of sources that send traffic to your site. The graph shows traffic trends; the pie-chart and tables show the traffic sources driving the trends.

"Direct Traffic" is visits from people who clicked a bookmark to come to your site or who typed your site URL directly into their browser.

"Referring Sites" shows visits from people who clicked to your site from another site.

"Search Engines" shows visits from people who clicked to your site from a search engine result page." Google Analytics google.com/analytics
27.30% Direct Traffic
43.46% Referring Sites
29.24% Search Engines
beautyme

39.02% Direct Traffic
52.74% Referring Sites
8.24% Search Engines
confashion

45.82% Direct Traffic
48.52% Referring Sites
5.65% Search Engines


What's the technical and editorial architecture of Fashionoffice?
Technical architecture Fashionoffice has outsourced the whole technical environment. The magazine is running on a standard third-party server in US, California (Globat.com) which can not be configured by Fashionoffice to work better or worse for selected routines. The statistical data are collected with an internationally accepted tool (Google Analytics). The magazine's public-opinion polls are running on the same third-party server where Fashionoffice is installed.
Editorial strategy The content is produced by Fashionoffice itself, collaborators and is delivered by other producers. Fashionoffice consists of 7 domains (fashion.at, beautyme.com, confashion.com...), 19 special channels (design, collections, fragrance, cosmetics, music, catwalk TV...), and various media (website, RSS, widgets, mobile site, weekly Trendletter...) which are transporting the content. Alongside, the magazine's domains and channels distribute third-party content from international magazines, TV stations, musicians, film producers....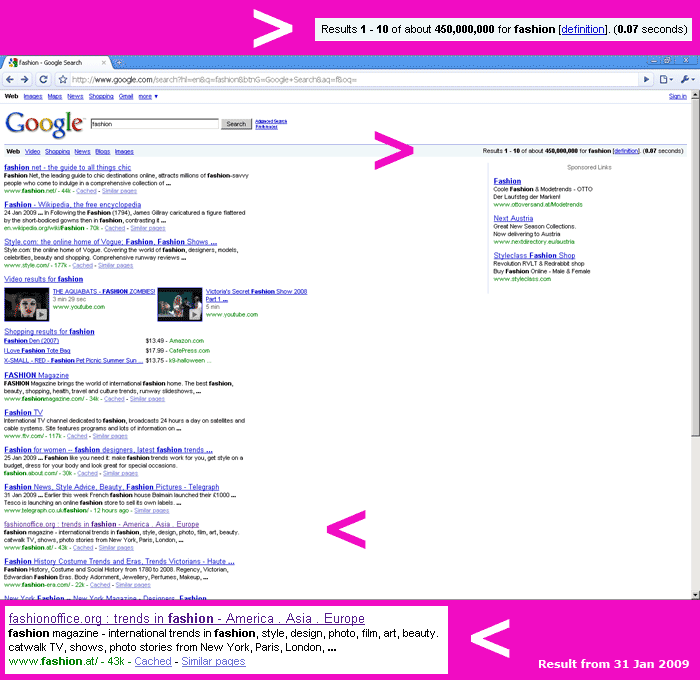 Details about the editorial strategy of Fashionoffice fashionoffice.org/press/2008/mediainfo12-2008-2.htm.


Fashionoffice in Search-Engines
Since 13 years Fashionoffice is one of the most relevant fashion sources online. By using the anniversary-search of Google.com in their oldest available index (January 2001) the magazine ranked with the 'mother' of all Fashionoffice channels fashion.at (founded 1996) on the 3rd place of about 6,840,000 results for 'fashion'. Today, the magazine is still on the first site of 450,000,000 results on worldwide searches for 'fashion' in Google.

Click on the image to enlarge it> Read more about the top-ranking history of the magazine fashionoffice.org/press/2008/mediainfo10-2008.htm.



Read more about: