18 July 2016

Braun's insight into the development of the design of coffee machines from the 1970ies up to nowadays
Braun sent some images and information about the development of coffee machines from the 1970ies up to our days: the first impression is that the 70ies were far more spacey (the 1972 design classic by Braun, the KF 20 is on view in bold colors below) than the 2010ies which appear more compact (the KF 47/1 in black and white offers enhanced technics in kitchen and office friendly dimensions).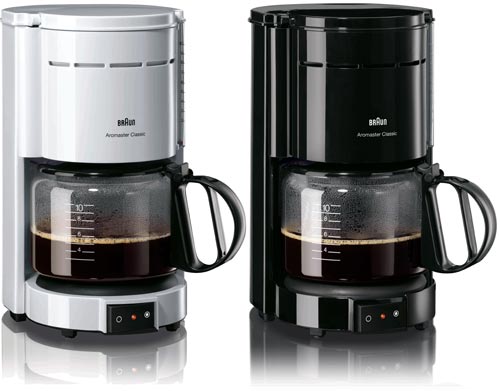 The bold colored coffee machines (below) aren't available in stores; on eBay and other platforms people trade them as icons of design - and the 70ies machines reach almost astronomical prices measured on the technically better equipped KF 47/1 Aromaster Classic which is available for around 60.- Euros!
fig. right: Braun filter coffee machine KF 47/1 Aromaster Classic in white and black.
It seems that even when Braun's KF 47/1 is the redesign of the 1970ies KF 20, product designer Florian Seiffert's 'water tower' inspired construction of an electric coffee machine with filters and a can made of glass that resists the heat from below still fascinates the people as it marks a milestone in design - visually, technically and as expression of the changes that happened in the increasingly better educated society which began to acquire everyday objects under esthetical aspects as works of applied arts. The coffee-water pillar of the KF 20 is around 40 cm high - almost 4 cm higher than the K 47/1, and was with its loud colors far more 'present' in a room than the reloaded version of the filter coffee machine KF 47/1.
fig. below: The 1972 design icon Braun KF 20 filter coffee machine (in yellow, orange, red, white) by Florian Seiffert can be found today on platforms like eBay where people are trading them as classical applied arts objects.