10 June 2016

Vienna Insight: EURO2016 public viewing at Pratersauna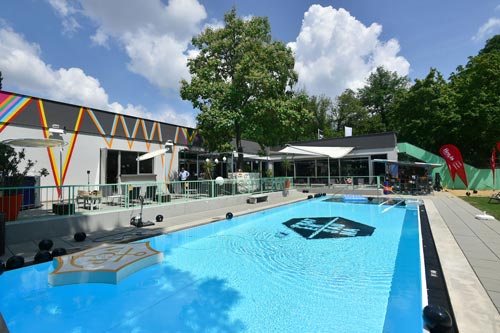 Today on the first day of EURO2016, the public viewing of the European Championship via XXL video screen starts at the brand new 'Sauna Strand Klub' of the music/dance club Pratersauna. Owner Martin Ho has chosen for the beach-garden with pool the architecture of a recreational lounge area which is equipped with WIFI and power points for charging devices. The prices for beverages are affordable. The Sauna Strand Klub with additional muscle beach and volleyball area is open every day.
The first EURO2016 game (France - Romania) will begin today at 21.00.
fig.: On 10 June 2016, the UEFA EURO 2016 public viewing started at the 'Sauna Strand Klub' at Pratersauna in Vienna. The images show the pool (above) and the club's lounges with protective sun screens. Photos: © leisure.at/Christian Jobst.