13 November 2016

Culinary experts selected Babette's spice configurator competition winners: Cross Continent and Kampot Kakao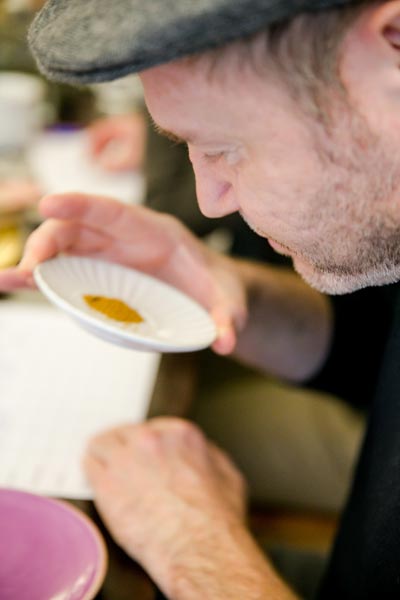 From mid-September until mid-October, Vienna-based spice & cook books store Babette's invited online users to create via the label's spice configurator a special composition (article). Now, the jury of professionals selected the most 'thrilling' spice mix. With the announcement of the winning spice creations, even the names of the 6-members jury were revealed. The five women and one man represent Vienna's professional gastronomy and cooking scene. Legendary 'Zum finsteren Stern' (meeting place of the creative scene in the 1st district of Vienna) chef de cuisine Ella de Silva, Babette's owner and book author Nathalie Pernstich-Amend, Antonia Kögl - publisher of the food-blog 'Because you are hungry', book author and owner of the gastronomy consulting company 'Kitchen Konsulting', Andrea Scholdan is physician and specialist for soups after traditional medicine - she owns the soup manufactory Suppito, Maleinka Wildenauer works at Babette's spice manufactory, and last but not least - the man in the round who is probably the one whose opinion about cuisine is the most followed in public. Florian Holzer (image right) is as journalist (gastronomy critic) a professional judge in this field. He writes for numerous Austrian and German print publications, is book author and this spring, Viennese city-TV 'W24' started the series 'Hat's G'schmeckt?' (could be translated as 'Did it taste well?') where candidates present their favorite restaurants.
The experts selected as winner of Babette's spice configurator competition the blend 'Cross Continent' (cumin, chipotle chili, pomegranate and other ingredients) by Isabel Öhlinger. She uses the composition especially for tofu dishes and explains how: just a quick fry, adding some vegetables - that's all. The jury states that one of the reasons why 'Cross Continent' was chosen are the various possibilities of the blend's spicy-fruity notes which can be used for sauces, meat, ragouts or vegetable dishes.
2nd winner is Bettina Laschke's 'Kampot Kakao' (kampot pepper, Fleur de Sel, cocoa and other ingredients) which is used by the composer for example for pumpkin dishes. Laschke likes to fry pumpkin with some olive oil in the pipe, spreads kampot cocoa over it and ready.
The new blends 'Cross Continent' and 'Kampot Kakao' and will be available soon at the two Babette's stores in Vienna and online.
fig.: The image shows gastronomy critic, book author and TV host Florian Holzer tasting as Babette's jury member the smell of a spice blend. Below: The spice configurator winner blends 'Cross Continent' and 'Kampot Kakao'. Photos: (C) Jenny Fetz.