3 March 2016

Fruits, water, chocolate and Nupo diet powder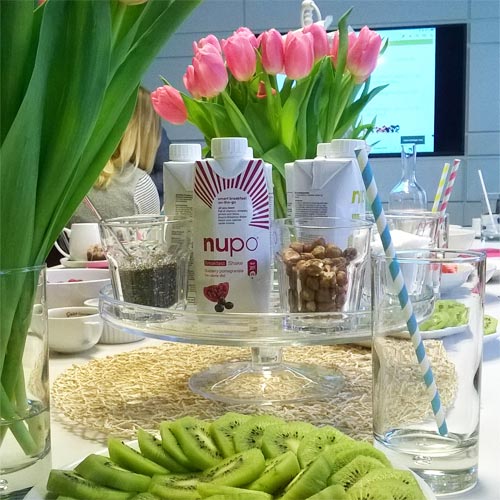 ...at a brunch today in Vienna.
The Austrian division of diet powder producer Nupo (nupo.at) invited to a brunch for the introduction into the products and diet program of the label which was founded 35 years ago in Denmark. The products were developed after medical researches on low calorie diets.
Loosing weight with diets is good as long as health isn't endangered. There exist ideal weights in relation to body height, age and gender in medical sciences with good causes such as the proper body mass index literally puts not so much weight on the bones while walking, running or sports in general. On the other side, the undernourished body can't bring performance - and doesn't look good. By the way, 'beauty' was at today's event no argument for loosing weight.
So far, Nupo seems to be a good solution for the ones who are working on a strong, healthy body as the basic powder carries essential vitamins and minerals. Additionally to the powder for shakes in various tastes like strawberry or caffe latte, products like the 'Tasty Meal' range of ready-prepared-meals or meal bars (chocolate, hazelnut,...) complete the diet program which can replace the normal daily food. The replacement of the daily food can be organized alone or with the help of a nutrition expert. Therefore, Nupo invited the Austrian nutrition expert Manuela Simeoni who spoke today about the calculation of calories for example for mixing the products with other dishes, fruits etc or about planning how fast weight should be lost.
Nupo can be a good choice for adopting a conscious approach to daily nutrition. In Austria, Nupo is brand new and currently available exclusively via the label's website (distribution in Austria and Germany); the Austrian store chain partner will be announced soon.


more cuisine>