25 April 2016

Thomas Feichtner's tableware 'Shortcut' for Augarten Porzellan is inspired by the IT-world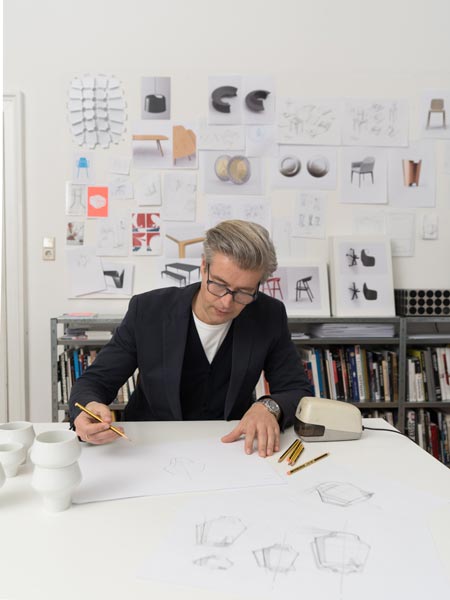 Recently, the Austrian porcelain manufactory 'Augarten Porzellan' re-released the 'Shortcut' tableware (from 2011) designed by Thomas Feichtner who contributed already 'The Porcelain Vase' (2011 premiere at Salone Internazionale del Mobile in Milan) to the Augarten collection; the three legs-form of the vase was designed after the anatomical study of a flower bouquet (conically widening from the middle up and down) and reminds the form of a rocket.
The dishwasher safe tableware 'Shortcut' bases on a social view on our society which lives today in a digital and smart urban environment. Shortcut references the IT-world and computer key combinations for faster commands. The service with its easily stackable 7-pieces consists of 2 cups (small for beverages like mocca café and large for milk coffee for example), two plates (small for the salad, desert or simply as saucer for the bowl and large for the main dish), cup with saucer (tea), and bowl (for cereals, soups, salad or dishes like goulash). Thomas Feichtner states on his website that no piece is designed for specific dishes. In its concept, it's the porcelain materialisation of the practical abbreviation of traditional tableware or with Feichtner's words: "A shortcut on the keyboard of Viennese porcelain tradition." Now, five years after the first edition, the 'Shortcut' service was presented with a puristic decoration in two notes of matte stone grey decoration on white.
fig.: The portrait of Austrian designer Thomas Feichtner shows him sitting at the table and sketching tableware. Photo: © Augarten Porzellan. Below: Porcelain tableware service 'Shortcut' by Thomas Feichtner for Augarten Porzellan, with decoration in two tones of matte stone grey, released 2016. (The carafe and the glass don't belong to the service.) Photo: (C) Margit Hubner / (C) Augarten Porzellan.