19 August 2016

What's behind the European culinary tradition Törggelen?
European culinary traditions are multifaceted! There is cheese which is typically French (the great ones with mold); wine which is exclusively planted in or associated worldwide with Austria (Uhudler, Grüner Veltliner) and there are wine traditions which originate from certain regions - such as the South Tyrolean harvest tradtion Törggelen (drinking new wine in combination with just ripened sweet chestnuts and South Tyrolean specialties like ham; closer description of the culinary and its history inclusively explanation of the origin of the word can be found online).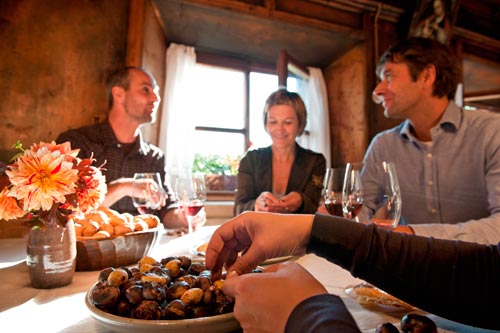 Törggelen happens over a period from late September/early October to the beginning of the advent season (December). During that time, South Tyrolean wineries' special gastronomy, the so-called 'Buschenschänke' invite to the Törggelen wine tastings. At the beginning of the season, farm houses where Törggelen is offered will ignite outside a fire; the fire is named 'Keschtnfeuer' and stands as symbol for roasted chestnuts. The list of Buschenschänke with Keschtnfeuer events on the same day (1 October) is published on roterhahn.it/de/urlaub-auf-dem-bauernhof/toerggelen-am-ursprung/.
fig.: South Tyrol is known for the paneled 'Stube', originally the living and dining room of farmers. The stube is a room which can be found in farm houses, gastronomies or even at castles (at last mentioned the wooden dining rooms are often associated with hunt). The image shows the paneled stube of the Patscheider Hof in Signat at the Rittner Kastanienweg. Photo: (C) IDM Südtirol/Alex Filz.


more cuisine>