23 June 2016

Vienna Insight: Babette's invited to new spice manufactory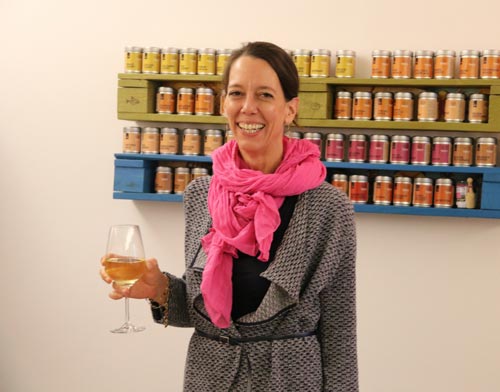 Recently, Viennese spice and cook books store 'Babette's' owner Nathalie Pernstich-Amend invited to the new spice manufactory at Dreihausgasse in the city's 15th district where the spices are prepared by hand for end-consumers as well as professional cooks.
fig.: Portrait of Babette's owner Nathalie Pernstich-Amend; photo captured during the Babette's manufactory event on 20 June 2016. Pernstich-Amend has two stores in Vienna; one at Schleifmühlgasse 17, 4th district, and since 2008, the shop at Am Hof 13 in the inner city. Below: Views at the manufactory at Dreihausgasse, 15th district. Photos: (C) Babette's.
Almost at the same time of the manufactory event, Babette's new website with online shop went online (Facebook post embedded below). Even Nathalie Pernstich-Amend's own book 'Pfeffer' with culinary, historical, botanical stories about the author's favorite spice pepper can be found there. The website contains an own book review category babettes.at/rezensionen/ where the online shop's cook books are reviewed under formal aspects of the order of the chapters and recipes as well as the quality of the content like pictures and the culinary accompanying stories which are partly described like works of poetry. The cook books are about dishes from various regions, continents as well as trends like Street Food.
The spices online shop offers extraordinary products such as one with the nickname 'Devil's Filth' (Teufelsdreck) - it's advised to use only small doses, or the interesting (vanilla, pepper, coriander,...) 'Seven Secrets Mix' which is described as composition with seductive note for dishes like fish and vegetables.