28 November 2016

Vienna Insight: Escargot farm, manufactory and bistro Gugumuck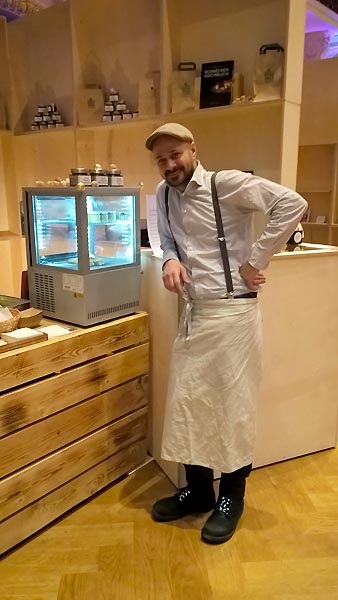 Fashionoffice met Andreas Gugumuck at the 'Wiener Handwerk' event on 25 November and tasted one of his products: a cooked snail from his farm refined with onions sweetened by the farm's own honey to a 'Vienna Escargot' amuse-gueule (delicacy). The tradition of snails for cuisine isn't new and can be traced back to the Romans. In Vienna, escargot meals had their high-times during the 19th century when the city was the cultural and political center of Europe. Gugumuck mentions Vienna's history at the embedded posting (below) of the recently broadcasted Servus TV documentary about the company. In 2014, Andreas Gugumuck founded the Vienna Escargot Manufactory at the farm of his family in Rothneusiedl in the 10th district of Vienna. The recipes of the manufactory products are derived from explorations of the flavors of Vienna escargots in collaboration with chef Dominik Hayduck. This year in February, Gugumuck's own 'Farm Bistro' has opened and offers a monthly changing 6-course escargot meal by Dominik Hayduck.
fig.: The image shows Andreas Gugumuck, founder of the Gugumuck - 'Vienna Escargot' farm and manufactory, at the 'Wiener Handwerk' event on 25 November at Sofiensäle in Vienna.
Andreas Gugumuck and his team produce alongside to snails (also interesting as anti-aging ingredients - collagen, elastin - in cosmetics), honey and escargot meals, Future Farm and Food concepts with focus on ecology and human health. In early 2017, the Gugumuck project 'Vienna Honeybee Innovation Center' will start.