14 November 2016

Australian blogger Zanita Whittington introduces into Christmas decoration with Swarovski crystals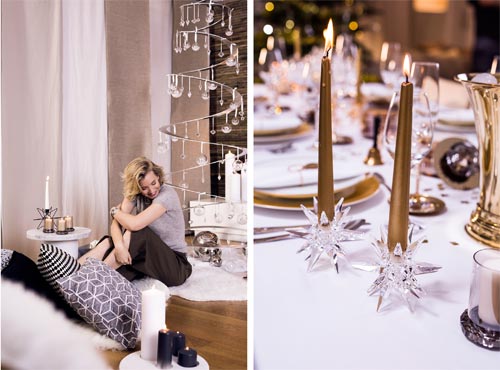 Swarovski teamed up with Australian Zanita Whittington, founder of Zanita Studio which started as personal style blog 2006 and appears today more like a fashion, beauty, lifestyle, trend consulting magazine. At the video (below), Zanita Whittington presents some of her favorite pieces from the Swarovski Christmas collection. The collection reaches from Christmas tree to festive table decorations and is published currently in three styles with videos on swarovski.com.
The video 'Modern Décor' (embedded below) shows Zanita Whittington with an artful sculpture Christmas tree (even on view at the image above, left). Focus of this style are Christmas decorations in straight, abstract forms, and light from purist candles. The second style presents the 'Festive' styled traditional green Christmas tree which brings not only the scent of nature into the room. It's the most playful style! The figurative decorations like snowman, nutcracker will be the most attractive for children. The third style is 'Timeless Classic' and consists of items such as stars, snow crystals or balls in designs which fit easily to various styled trees. The ones who search for a gift for the host of a festive dinner will find a souvenir at this line easily.
fig. from left: Zanita Whittington with items from the Swarovski Christmas Tree Crystals Ornament collection in 'Modern' style. Image right: The picture shows Star Candel Holders from the Swarovski Christmas Crystals Table Ornament collection, 'Timeless Classic' style, presented with Zanita Whittington. Photos: © Swarovski.